UAE and US to pursue new trade and investment opportunities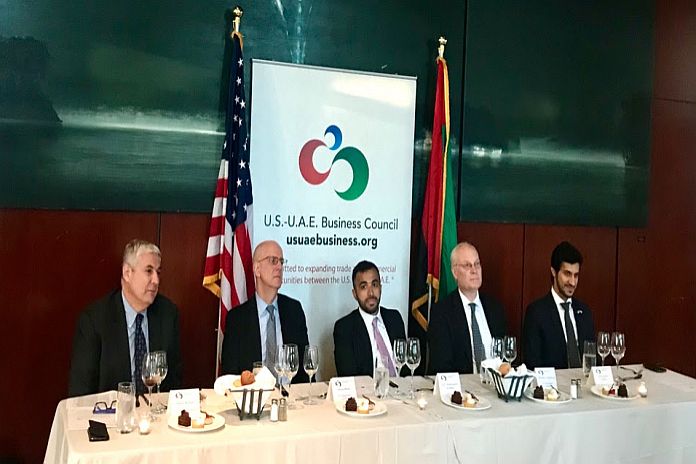 The National | 20 June 2020
UAE and US to pursue new trade and investment opportunities
by Jennifer Gnana
The United States and the UAE reaffirmed their intention to pursue new economic, trade, investment and commercial opportunities at their seventh economic policy dialogue.
The UAE has been the largest export market for the US in the Middle East and North Africa for 11 consecutive years, with non-oil trade growing consistently in recent years.
The virtual meeting chaired by the UAE Ministry of Foreign Affairs and International Co-operation was attended by trade representatives and ambassadors from the two countries.
The trade relationship helps support more than 116,000 jobs in the US, which had a $15.6 billion (Dh57bn) trade surplus with the UAE last year – its third largest worldwide.
The US representatives lauded the UAE's efforts to promote an open economic environment.
The UAE is ranked first in the Mena region and 16th out of 190 countries when it comes to the ease of doing business, according to the World Bank's 2020 survey.
The two countries signed a trade and investment­ agreement in 2004 to promote formal dialogue on economic ­reform and trade liberalisation.
The agreement allows for the establishment of legal protection for investors and intellectual property rights, as well as greater transparency and efficiency in customs.
Discussions over a free-trade agreement began in 2005 and the countries remain committed to completing negotiations at a later date, the US ­Department of Commerce said.
During the seventh economic policy dialogue, the UAE raised concerns over steel and aluminium tariffs imposed by the administration of President Donald Trump.
Mr Trump announced 25 per cent tariff on steel and a 10 per cent levy on aluminium imports in 2018.
UAE companies such as Emirates Steel, one of the largest non-oil companies in the country, have expressed concerns over the tariffs.
The US imports around 26,000 tonnes of steel sections from the UAE manufacturer on an annual basis. New potential areas for economic co-operation in fields including food security, health security and healthcare research, space, customs and emerging technologies were highlighted during the virtual dialogue.
The two countries have held talks since 2012 to promote trade and investment.
The UAE has free trade agreements with Singapore and New Zealand.
It has also held talks with Argentina, Australia, Brazil, China, the European Union, India, Japan, Pakistan, Paraguay, South Korea, Turkey and Uruguay.
The UAE maintains a number of agreements with countries on the protection and promotion of investment and the prevention of double taxation.
---