UK foreign secretary seeks trade agreements in Chile, Latin America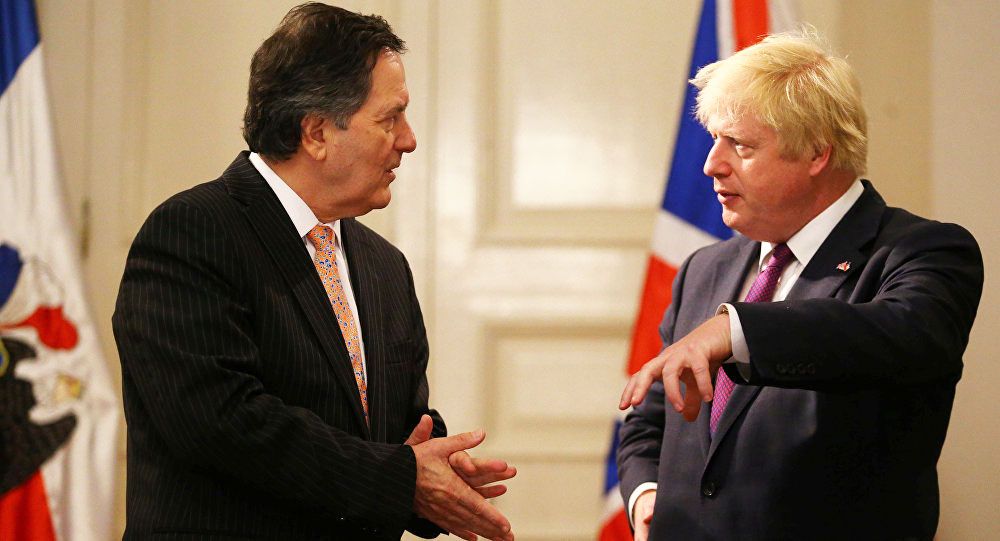 Reuters | 23 May 2018
UK foreign secretary seeks trade agreements in Chile, Latin America
by Fabian Cambero, Aislinn Laing
SANTIAGO (Reuters) - Britain's Foreign Secretary Boris Johnson concluded a five-day charm offensive in Latin America on Wednesday by expressing interest in a trade agreement with Chile and other countries in Latin America's so-called Pacific Alliance.
Johnson extended a trip to a G20 foreign ministers' meeting in Buenos Aires to include a tour of Peru, Argentina and Chile, seeking closer ties with all three countries. Britain is looking to negotiate free trade agreements to sustain commerce after its departure from the European Union.
"We see a great chance to be closer to the Pacific Alliance, a group of free-trading countries," he said at a joint news conference with Chile's Foreign Minister Roberto Ampuero.
"There is an old, rich and historic friendship between our two outward-looking, free trade economies… We see great opportunities to develop this partnership," Johnson said.
The Pacific Alliance includes Chile, Colombia, Peru and Mexico.
Johnson sold a vision of a Britain poised to exploit new global opportunities while at the same time fierce debate rages within his country and his own party about how Britain will exit the EU.
Johnson expressed astonishment that no British foreign minister had visited Argentina or Chile in more than two decades or Peru for 50 years at a reception at the British Embassy in Santiago on Tuesday evening.
"Since we joined in 1973 what was then called the Common Market, perhaps subconsciously the instincts of British foreign policy have been a little too Eurocentric at the expense of our engagement with the world," he said. "Now we are leaving the EU, there is a chance to be more global, more outward-looking, more engaged."
Ampuero said on Wednesday Chile welcomed the chance to replicate with the UK its "very successful, mutually beneficial" free trade deal with the EU.
He added: "For us, it's important that there is no delay…. so that we can both be beneficiaries of a free trade agreement the moment that Brexit is realized."
Johnson had expressed hopes of "a big free trade deal" with Argentina as well.
The discussions were met with skepticism in some quarters. Former British Prime Minister Tony Blair said on Twitter that the entirety of British exports to Argentina, Peru and Chile were less than 6 percent of those to Ireland, which is part of the EU.
---