Ukraine's ambassador, Canada's trade minister discuss updates to free trade agreement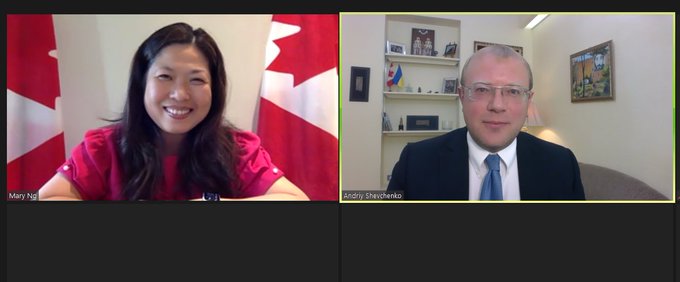 Ukrinform | 20 August 2020
Ukraine's ambassador, Canada's trade minister discuss updates to free trade agreement
Canada and Ukraine are committed to modernize the free trade agreement.
Canada's Minister of Small Business, Export Promotion and International Trade Mary Ng wrote about this on her Twitter page following a conversation with Ukraine's Ambassador to Canada Andriy Shevchenko, an Ukrinform correspondent reports.
"Thanks very much to Andriy Shevchenko, Ambassador of Ukraine to Canada, for our virtual meeting earlier today! We spoke about our commitment to modernize the Canada-Ukraine Free Trade Agreement, and agreed that inclusive and rules-based trade will be key to our people's economic recovery," the Canadian minister wrote.
At the same time, Shevchenko said that he wants Canada and the world to see Ukraine as an emerging important trade partner in the region. "Minister Mary Ng, thank you for taking your time to reflect, dream and plan together," he wrote on his Twitter page.
The Canada-Ukraine Free Trade Agreement (CUFTA) entered into force on August 1, 2017.
---