Updated Canada-Israel trade agreement to give gender rules 'teeth'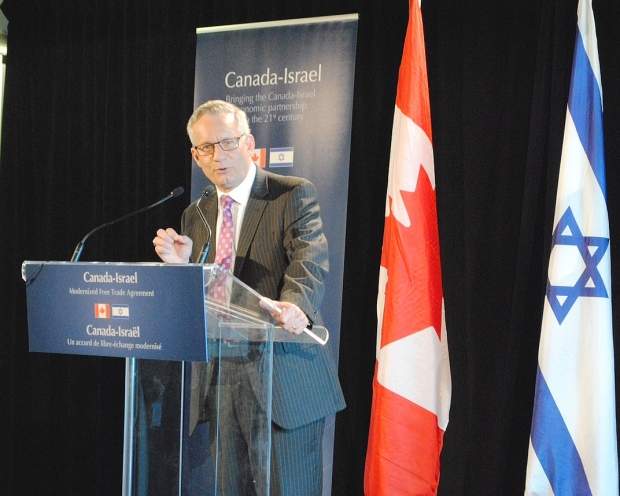 CBC | 28 May 2018
Updated Canada-Israel trade agreement to give gender rules 'teeth'
by Katie Simpson
Canada and Israel are looking to deepen business ties through a modernized free trade agreement that will be revealed during an announcement in Montreal this afternoon.
The updated trade pact will include new chapters on gender, labour and the environment, as well as provisions around social responsibility for corporations.
Sources tell CBC News the gender chapter of this trade agreement has "teeth", since for the first time ever it will be subject to the dispute settlement process.
Speaking on background, the sources say the new policy will give both Canada and Israel the power to challenge trade policy decisions that could be seen as discriminatory.
But according to one source, the process will only apply at the state-to-state level, meaning corporations will not be subject to this particular set of regulations.
The source provided a hypothetical example: If Canada were to make a trade policy decision that Israel believed hindered the participation of women in the workforce, Israel could challenge Canada's policy.
Both countries would then have to agree to take the issue through the dispute settlement process. From there, a panel would make a legally binding decision as to whether the terms of the gender chapter had been violated.
The offending country would then be given time to change the discriminatory practice, or some of the benefits of the free trade agreement could be suspended.
The source said the goal is to emphasize the importance of gender rights and encourage high-level discussions about equality.
Longtime trade partners
Israel Minister of the Economy and Industry Eli Cohen will stand alongside International Trade Minister François-Philippe Champagne for the announcement.
Sources say further details will also be revealed later today, including another new chapter on small- and medium-size enterprises.
The original Canada-Israel Free Trade Agreement was signed more than 20 years ago and has tripled trade between the countries, reaching $1.7 billion in 2017.
According to the Canadian government, Canada's top exports to Israel include industrial machinery and aircraft parts.
Industrial machinery was also the top Israeli export to Canada, followed by electrical and electronic equipment.
Canada included a gender rights chapter in its free trade agreement with Chile, but it is not linked to the dispute settlement process.
Today's announcement comes as Canada is in the middle of tense NAFTA negotiations with the United States and Mexico.
In those discussions, Canada proposed introducing new chapters on gender and Indigenous rights; however, those ideas have not been discussed as frequently as other high-profile issues, including changes to the auto sector.
---