US and Japan to duel over auto tariffs and FTA at first trade talks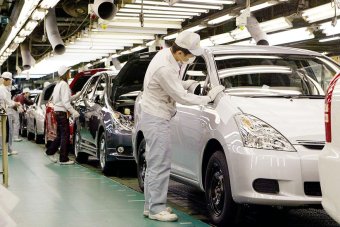 Nikkei Asian Review | 1 August 2018
US and Japan to duel over auto tariffs and FTA at first trade talks
by Rintaro Tobita & Tomoyoshi Oshikiri
Tokyo: Japan hopes to skirt higher automobile tariffs and any moves toward a bilateral free trade agreement in the first cabinet-level negotiations with the US next week, but cajoling the increasingly impatient Americans may prove a challenge.
US Trade Representative Robert Lighthizer is expected to demand the start of free trade talks when he meets with Toshimitsu Motegi, Japan's economic and fiscal policy minister, in Washington on Aug. 9. This will be their first meeting under the "free, fair and reciprocal" trade talk framework.
With midterm elections fast approaching, US President Donald Trump is increasingly eager for tangible results that he can tout to voters. Japan, which has domestic farmers to consider, will likely be put on the defensive.
Trump's suggestion of higher automotive tariffs is also of grave concern to Japanese automakers. In a press conference on Tuesday, Motegi reiterated that "we will continue to explain how much Japanese companies are contributing to the US economy and employment."
The Commerce Department is preparing to release a study in mid-August over whether vehicle imports should be limited. If the US slaps duties on Japanese auto exports, then Tokyo "has no choice but to resist with retaliatory tariffs," said a Japanese government source, voicing one opinion.
Toyota Motor supplier Denso said on Tuesday that if the US were to impose new tariffs on cars and auto parts, the financial impact on the company would reach the equivalent of $625 million to $715 million a year. The company currently exports parts for hybrid vehicles from Japan.
The meeting previously was slated for July, but the White House prioritized trade discussions with the European Union, as well as with members of the North American Free Trade Agreement.
Japanese Prime Minister Shinzo Abe first pitched the so-called FFR talks to Trump during their April summit in Florida. Finance Minister Taro Aso, who doubles as Japan's deputy prime minister, had been meeting separately with US Vice President Mike Pence for a series of economic dialogues.
But the White House grew frustrated with the Aso-Pence talks, seeing them as Japan's attempt to buy time. The two sides adopted the FFR framework as a do-over of sorts, leaving little room for stalling by Tokyo.
Lighthizer expressed an eagerness for a bilateral free trade deal with Japan in a congressional hearing in July. The US hopes to lay out a set of demands, such as the lowering of tariffs on beef imports, as part of FTA negotiations.
But domestic politics figure prominently among Tokyo lawmakers facing upper house elections next summer. The agriculture lobby will oppose any lower tariffs on American farm imports, putting policymakers in a squeeze.
Tokyo could offer to expand imports of military equipment and liquefied natural gas. Japanese officials are prepared to accept Trump's demand on those points to avoid FTA talks.
Trump and Abe are expected to meet on the sidelines when the regular UN General Assembly session opens in September. Japanese officials look to come to terms with the US by then concerning the start of free trade talks as well as vehicle tariffs.
---