US businesses launch coalition for fair trade with India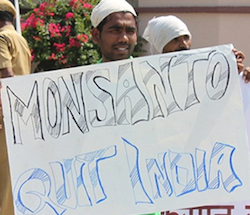 IP Watch | 18 June 2013
US businesses launch coalition for fair trade with India
By Kelly Burke for Intellectual Property Watch
A new coalition of United States business groups, called the Alliance for Fair Trade with India (ATFI), launched today to take aim against what they say are discriminatory trade practices in India against US exports.
AFTI is co-chaired by the National Association of Manufacturers (NAM) and the US Chamber of Commerce Global Intellectual Property Center (GIPC).
The alliance alleged that over the past year, India has supported discriminatory policies against a wide range of US exports in order to benefit India's business community. These actions, it said, put at risk a bilateral trade relationship worth over US$ 60 billion in 2012 alone.
Earlier this month, the heads of 17 US industry associations issued a letter to US President Barack Obama expressing concern that recent policy decisions in India undermine internationally recognised intellectual property standards and are jeopardising domestic jobs (IPW, 7 June 2013, US Policy).
"In recent months, India has systematically failed to respect global intellectual property standards, causing an impact to its investment potential," Mark Elliot, executive vice president of the GIPC, said in a statement. "From unprecedented patent revocations and denials to insufficient copyright enforcement, India has established itself as an outlier in the global economy."
"If this is truly to be India's 'Decade of Innovation,' the government must promote robust IP policies that incubate both homegrown and international innovators," Elliot said.
In the coming weeks, AFTI said it will work with the Obama administration and members of Congress to pursue public policy options that will help create a level playing field for US exporters operating in India. ATFI members include: NAM, GIPC, American Business Conference, American Foundry Society, Biotechnology Industry Association, California Manufacturers & Technology Association, CropLife America, the Emergency Committee for American Trade, Motion Picture Association of America, National Equipment Manufacturers Association, National Foreign Trade Council, Pharmaceutical Research and Manufacturers of America, Solar Energy Industries Association, and the Telecommunications Industry Association.
A press release on the topic was published on NAM's website here.
---