Vice premier pushes for start to talks on investment agreement with EU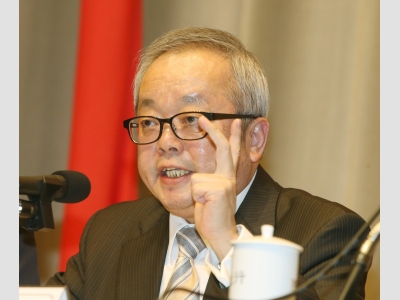 Focus Taiwan | 4 June 2018
Vice premier pushes for start to talks on investment agreement with EU
By Liao Yu-yang and Frances Huang
Taipei, June 4 (CNA) - Vice Premier Shih Jun-ji (施俊吉) on Monday urged the European Union (EU) to start negotiations with Taiwan on a bilateral investment agreement (BIA) as soon as possible.
Speaking at the opening of European Innovation Week in Taipei, Shih said the BIA will offer greater protection to investors in both Taiwan and the EU amid growing economic cooperation between the two sides.
European investors have been investing more heavily in Taiwan in recent years and have shown keen interest in Taiwan's burgeoning offshore wind energy development projects, which makes the BIA even more vital at this time, he said.
According to Shih, European investors poured US$10.6 billion into the Taiwan market over the past two years, accounting for about 25 percent of the EU's aggregate investment of US$44.7 billion in Taiwan, which indicated growing business ties between the two sides.
Taiwan and the EU have a common economic goal of speeding up the pace of industrial upgrade and innovations, which creates plenty of opportunities for a mutually beneficial situation, he said.
Taiwan and the EU also both have a sound investment environment, a growing pool of talent and a booming tech sector, which have led to strategic partnership between them in industries such as information and communications technology, machinery, renewable energy, and biotech development, Shih said.
On the sidelines of European Innovation Week, Economics Affairs Minister Shen Jong-chin (沈榮津) told the press that working groups from Taiwan and the EU are expected first to discuss a negotiation framework for a BIA.
Meanwhile, Antti Peltomaki, deputy director general of the Directorate General of the Internal Market, Industry, Entrepreneurship and SMEs of the European Commission, said bilateral trade between Taiwan and the EU grew by about an annual 10 percent in 2017 and many European companies are attending European Innovation Week to seek business opportunities in Taiwan.
Peltomaki is heading a delegation to the event, which is an initiative of the European Commission in collaboration with Taiwan governmental agencies.
According to the Ministry of Economic Affairs, the event will include a series of seminars on topics such as circular economy, smart manufacturing, smart transportation, 5G and medical equipment development and wind energy.
In May, three European companies — wpd of Germany and Danish enterprises Orsted A/S and Infrastructure Partners (CIP) — were awarded contracts to install offshore wind development facilities in Taiwan.
---