What Deputy PM Somkid didn't say: disasters loom large as Thai government eager to join CPTPP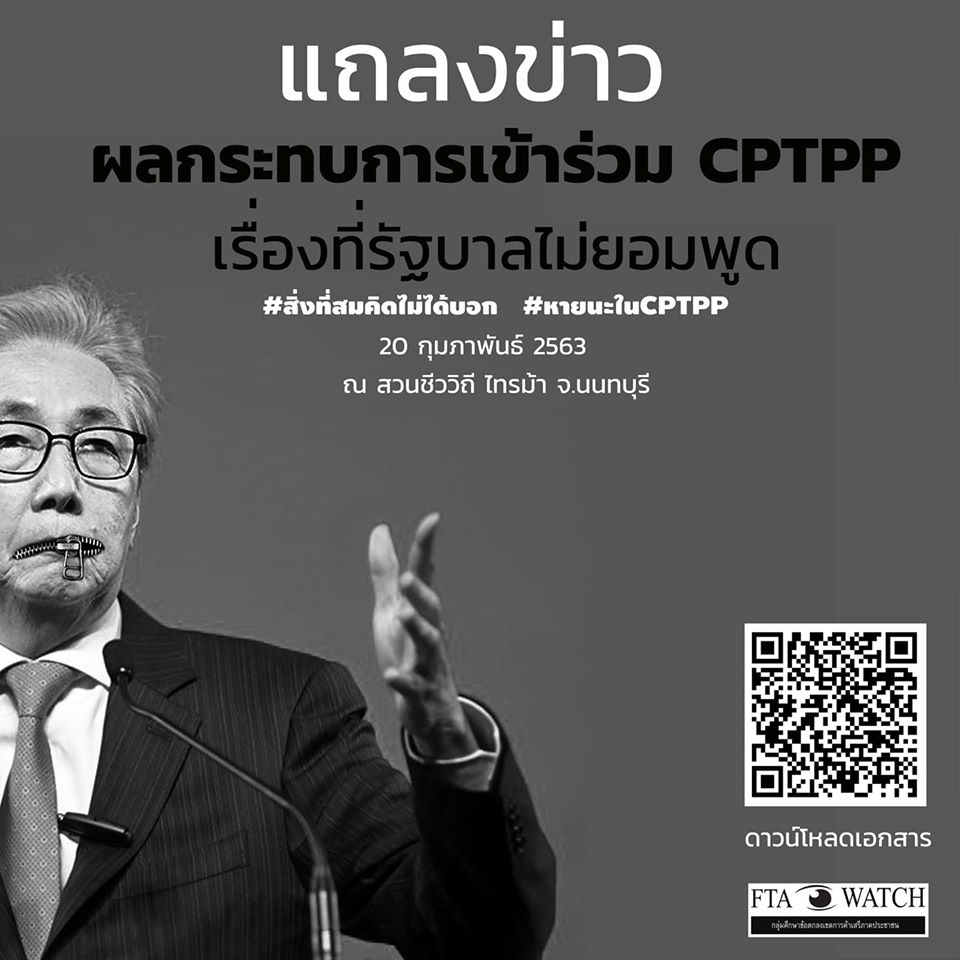 FTA Watch - 20 February 2020
What Deputy PM Somkid didn't say: disasters loom large as Thai government eager to join CPTPP
FTA Watch and Thai civil society slammed government's attempt, lead by the Deputy Prime Minister Somkid Jatusripitak, to push Thailand into CPTPP free trade agreement (FTA) while the country have no negotiating power; risking negative impacts on Thai small farmers, rights over seeds and breeds, and access to medicine. They warn that ISDS mechanism in this FTA would make way for investors and shareholders to take legal actions against the government. The group also calls for the opposition parties to utilize legislative mechanisms to scrutinize the deal which would enhance corporate profits at the cost of Thai public.
On 13th February 2020, Somkid Jatusripitak, Deputy Prime Minister, chaired a meeting of the nation's International Economic Policy Committee (IEPC). The meeting concluded that it would urge the cabinet to submit a letter of intents for Thailand to join the Comprehensive and Progressive Agreement for Trans-Pacific Partnership or CPTPP by April in order that Thailand can participate in the next conference of the parties to be held in August.
On February 20th, 2020, FTA Watch organized a press conference titled "What Somkid didn't say: no talk on drug patents but many hidden disasters in CPTPP". Kannikar Kijtiwatchakul, vice president of FTA Watch stated that after the US withdrawal from the agreement in 2017, CTPP now has 11 member countries, 9 of which Thailand already has free-trade deals with. Consequently, joining CPTPP now would gain Thailand marginal market access to only Canada and Mexico; ergo, benefits of the additional trade are estimated to increase GDP by barely 0.12% or THB 13,323 million. On the other hand, substantial negative impacts from the trade deal on a broad range of sectors are to be anticipated—as documented in a study by the Ministry of Public Health, a collection of concerns from various agencies within the Ministry of Commerce, and FTA Watch's study. Of particular concerns are monopoly of seeds and breeds, barriers to access to medicines, crippling consumer protection mechanisms for high-risks goods such as alcoholic beverages, cosmetics, and genetically modified plants and animals (GMOs), constraints on implementation of public policies to safeguard people, and disproportionate protection of foreign investors which could result in states being sued by the private sector and obstruction to public policies.
Witoon Lianchamroon, director of BIOTHAI Foundation, pointed to impacts on bioresources and products of biotechnology that; in joining CPTPP, Thailand is required to ratify or accede to the UPOV1991 Convention (International Convention for the Protection of New Varieties of Plants as revised at Geneva on March 19, 1991). The convention would expand the length of time corporations can monopolize new plants varieties (period of protection for breeder's right) to 20-25 years; consequently curtailing ability of farmers to reuse seeds from their crops and extend monopoly of plants varieties (from initially controlling only breeds/seeds) to their produce or products which could lead to monopoly of certain medicines through the control of plants breeds. CPTPP requires member states to ratify the Budapest Treaty on the International Recognition of the Deposit of Microorganisms for the Purposes of Patent Procedure (1977). Accordingly, Thailand would have to amend its Plant Varieties Protection Act, B.E. 2542 (1999) in accordance with a number international agreements/treaties which would affect profit-sharing mechanisms related to bioresources and protection of local plants varieties in Thailand.
"The Department of Trade Negotiations has claimed that farmers can still collect seeds from their crops even after Thailand joining UPOV1991; This is a false claim. If they were not misinterpreting the convention then they were distorting the fact and spreading misconception to the public because this claim contradicts studies done by various institutes. For example, a study funded by the National Health Commission found that the convention would result in negative impacts on Thai farmers and bioresources due to seeds monopoly and estimated the cost to be THB 122,717-223,116 million per year; On top of that, there are long-term consequences on the country's food security and drug security." - Witoon Lianchamroon said.
Additionally, 'Article 2 on National Treatment and Market Access for Goods' particularly 'Article 2.27 on Trade of Products of Modern Biotechnology' would grant indirect market access to GMOs and GM products; consequently diminishing safeguards guaranteed under the Cartagena Protocol on Biosafety under the Convention on Biological Diversity (CBD).
Tussanee Verakan, deputy director of Sustainable Agriculture Foundation (Thailand) suggested one of the most brutal implication on local farmers are related to how the CPTPP would remove measures to protect certain agricultural products which are on the sensitive lists of many bilateral and multilateral FTAs Thailand had already signed with 9 countries who are now parties to the CPTPP. Example of products on these lists are milk and milk products, coconut, soy, and corn. When the Ministry of Commerce held public hearings on CPTPP, they did not inform the people of this issue that could majorly sabotage small farmers and cause irreparable damages to the country's food security.
Chalermsak Kittitrakul, campaigner on access to medicine from AIDS ACCESS Foundation, warned of CPTPP's implications on Intellectual Properties (IP) particularly concerning medicines. According to the Deputy PM Somkid and the Department of Trade Negotiations/Ministry of Commerce, IP issues regarding medicine are no longer problematic in the CPTPP. Chalermsak said this is a biased and incomplete information.
"Although Article 20 which contains controversial IP provisions was suspended after the US had withdrawn from the agreement, the CPTPP text currently published on its formal website still contains a number of provisions directly and indirectly related to IP which would certainly have negative impacts on access to medicine. Articles 18.6, 18.53, 18.76, and 18.77 will create obstacles to access to medicine. For example, it does not allow states to use Compulsory Licensing (CL) mechanism for public non-commercial uses — But CL is a significant mechanism that Thai government has utilized on certain essential medicines to ensure safeguard of public health. The agreement requires Thai FDA to notify original drugs companies in advance when other companies file requests for registration [of the same drugs they hold patents]; this gives advantage to the original drugs companies to impede potential competitors. Regarding appropriation of consignments 'in transit', CPTPP allows confiscation and suspension of generic medicines that are suspected of trademarks or copyrights infringement — even when the consignments in question are considered legal at the destination countries. The agreement also allows conviction and penalty on other parties, in addition to the manufacturers, in cases of trademarks and copyrights infringement; In this regard, 'copyrights' may include labels or attached documents that contain details and use descriptions; 'other parties' may include points of sale which could implicate hospitals and healthcare centers.
All these provisions indicate that CPTPP will bind us to requirements beyond WTO's TRIPs Agreement where Thailand is a party to. It will also curtail FDA's privilege while granting advantages to industries or pharmaceutical companies who already have high innovation in medicines and medical equipments. Evidently, CPTPP will promote monopoly of medicines and eliminate competitors by obstructing market access of generic medicines. This unethical approach that disregard human rights to health and access to medicine will certainly jeopardize Thailand's Universal Health Coverage Scheme."
Khamron Choodecha, coordinator of the Public Network Against Alcohol Consumption expressed his network's concerns on the government's decision to join CPTPP. Alcoholic beverage is considered sensitive goods regulated under the Alcoholic Beverage Control Act. B.E. 2551 (2008) to mitigate its impacts on Thai public health. "Implications of CPTPP on alcoholic beverage is not only the lowering of tariffs to zero; the agreement will also restrain the Thai government from enacting measures to control and mitigate impacts from alcoholic beverage; issuing new regulations will be more difficult or even impossible while existing measures maybe curtailed so that their efficiency diminished. As well, certain consumer protection measures thailand has been enforcing, e.g. control of advertisement on products' labels and regulation on compulsory health-related warning signs, may no longer be applicable. We may not be able to enforce health-related warning messages and pictures on products' labels in the future. Additionally, CPTPP would apply the Codex Alimentarius Guidelines (CAC/GL 38-2001) for alcoholic beverages; However, this is inappropriate because the Codex standard is for certification/labelling of food but all types of alcoholic beverages are no-ordinary food according to the FAO. We also have further concerns about CPTPP's investors protection provisions (which extend beyond direct investments to include portfolio investments) and application of ISDS mechanism which would put our government at a disadvantage in the future."
On this occasion, FTA Watch urged the opposition parties of the House of Representatives to investigate this case via legislative mechanisms. "Deputy PM Somkid told us not to worry but he never inform the public of the scope and the extent of what we aim to negotiate, and what would the government do if we fail to reach the set target. FTA Watch therefore has coordinated with MPs of the opposition; urging them to utilize legislative mechanisms e.g. filing motions of interpellation and forwarding our concerns to relevant parliamentarian committees so that legislators can thoroughly scrutinize the case. We need to ensure that the government's decision to join CPTPP does not benefit only giant corporate investors while negative consequences fall upon average Thai citizens, as happened with many government policies in the past. Thai civil society is ready to support the MPs with available data and studies; to make sure that trade negotiations and FTAs are fair to all parties as much as possible." concluded Kannikar Kijtiwatchakul, the vice president of FTA Watch.
---