300 Pinoy nurses, caregivers Japan-bound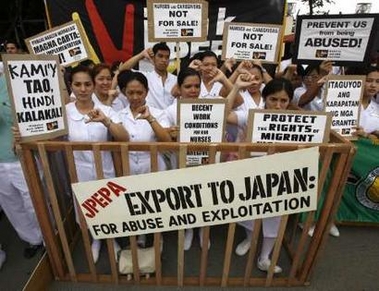 Sun Star | November 12, 2014
300 Pinoy nurses, caregivers Japan-bound
NOTWITHSTANDING the ruling on the legality of the Japan-Philippines Economic Partnership Agreement (JPEPA) that is expected in the coming weeks, over 300 Filipino nurses and caregivers are bound for Japan in an attempt at gaining employment.
In a statement, the Japanese Embassy in the Philippines said that a total of 306 Filipino candidates shall comprise the 7th Batch of Candidate Nurses and Caregivers to Japan under the JPEPA.
"Your efforts will serve as a big inspiration for the following batches of Filipino candidates. Your efforts will also contribute strongly to bolstering the friendship between Japan and the Philippines. You are, in a sense, representatives of your country," said Japanese Chargés d'affaires to the Philippines Tetsuro Amano during the opening ceremony of the preparatory Japanese Language Training on Tuesday.
The 306 candidates shall first undergo six months of language preparatory training at two different venues in the country.
The Embassy said 203 of the candidates will take the training at the Language Skills Institute at the Technical Education and Skills Development Authority (Tesda) head office in Taguig City.
The remaining 103 candidates will be trained at the Nihongo Center Foundation Inc. in Makati City.
All 306 will then depart for Japan and undergo another six months of Japanese language training there.
"This (training) aims to further assist Filipino candidate nurses and caregivers in passing the Japanese Licensure Examinations after they enter and work in Japan," said the Embassy.
To note, the deployment of the Filipino nurses and caregivers is part of the controversial JPEPA between the two countries signed in 2006.
The Supreme Court is expected to rule on the legality of the agreement, soon after the treaty's legality was questioned in 2008. (HDT/Sunnex)
---