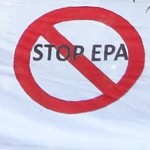 Pacific Network on Globalisation | Thu 17 Oct 2013
EPA is no more
BRUSSELS: In a surprise move this week, the European Union has moved to suspend negotiations for a new economic partnership agreement (EPA) with the islands of the Pacific, ISLANDS BUSINESS has been told.
Officials of the Pacific governments which are members of the Pacific bloc of the ACP states were informed of the EU's decision at a meeting in Brussels on Monday.
Reports received from Brussels where the European Commission is headquartered say EC officials is blaming the suspension of the EPA negotiations on Papua New Guinea.
They say PNG has indicated it won't join the rest of its Pacific neighbours in the move to negotiate for a comprehensive EPA with the EU.
Port Moresby would rather stick by the interim EPA it had negotiated with the EU in 2009. ISLANDS BUSINESS was told that PNG's decision not to participate in the comprehensive EPA is the fear the EU could restrict global sourcing in the IEPA.
Fiji was the other Pacific member of the ACP that had secured an interim EPA, and it appears that unlike PNG, Suva is refusing to abandon regional solidarity to save its interim agreement.
Queries sent to Fiji's Trade Minister, Attorney General Aiyaz Sayed-Khaiyum who is also in Brussels have not been responded to.
Full details of the EU decision to suspend EPA negotiations with the Pacific and its implications will be found in the November edition of ISLANDS BUSINESS.
http://www.islandsbusiness.com/news/ib-exclusive/3207/epa-is-no-more/
---