FTA Watch condemns bid to amend Article 190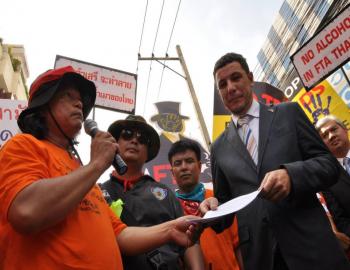 The Nation | October 18, 2013
FTA Watch condemns bid to amend Article 190
AN ADVOCACY group FTA Watch yesterday issued a statement condemning attempts to end legislative scrutiny of negotiations concerning international economic agreements.
The group said the proposed amendment to Article 190 of the Constitution would mean a collapse of the legislature as it would be unable to "shield" the country from international economic agreements that could impact the country.
It said the proposed amendment would boost the government's power to sign international deals without having to seek legislative approval on a negotiating framework.
The government would be able to bypass the legislature to negotiate any deals except those impacting territorial integrity, sovereignty, relevant laws enacted by Parliament and the opening up of free trade.
The proposed amendment would also curtail legislative oversight of international negotiations on free trade, climate change, environment and human rights.
The advocacy group said the amendment, if enacted, might trigger the mushrooming of street protests as it would deprive the people of a channel for participation via the legislature.
Democrat Party leader Abhisit Vejjajiva questioned the vote on the second reading of the amendment on Wednesday night.
Regarding Article 3 of the four-article amendment bill, lawmakers were asked to cast their votes in an unprecedented manner by approving each phrase of the draft provision, he said.
Abhisit also said passing the amendment meant the government would not have to consult the legislature on international negotiations related to the economy, the environment and energy.
Although the signing of a free-trade agreement would still require legislative endorsement, the government would not be required to keep lawmakers informed about the framework before negotiations, he said.
The opposition has threatened to litigate against the voting procedure if the bill passes the final reading next month.
---