AEC not so sweet a deal: sugar exporter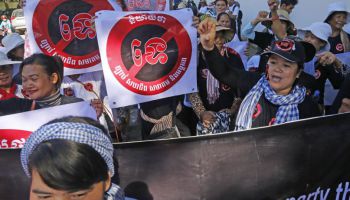 Khmer Times | 1 February 2016
AEC not so sweet a deal: sugar exporter
The sweet promise that the ASEAN Economic Community (AEC) would pave the way for a single market among the 10-member bloc of more than 600 million people at the end of last year has so far excluded sugar exports from Cambodia, according to Seng Nhak, director of Ly Yong Phat Group.
"I want to send a message to the public that our sugar exports to Vietnam, Thailand and other ASEAN members have been blocked," Mr. Nhak said, adding that they face quotas as well as import duties. "This is a problem," he said, claiming that the AEC is not benefitting Cambodia's sugar exporters.
"Sugar is a strategic industry," the director said. The governments of other ASEAN members were protecting their domestic producers, he added. "That is why they block Khmer sugar," he said.
Mr. Nhak called on the government to "take action," saying expanding sugar exports would allow Cambodia to grow more sugarcane. About 90 percent of the sugar produced by his company is sold domestically. Low prices globally are also a problem, he added. "We do not have a plan to expand the industry because the price of sugar in the international market is very low," Mr. Nhak said, adding that supply of sugar exceeds demand.
Sok Siphana, an advisor to the government, has told Khmer Times that existing ASEAN frameworks need to be deepened and that each ASEAN member will need to further liberalize its economy before the regional free-trade zone becomes a reality. "Many of us believe that the main constraints of our private sector are lack of technical and managerial capabilities, access to greater markets, access to finance, skilled workers, and lack of access to information and networks," he said.
"I believe that our private sector, in particular our SMEs [small and medium-sized enterprises], is too small and too young to think about outright competition with older and larger ASEAN neighbors. In fact, I would encourage them to think more in terms of 'collaboration' with investment partners from ASEAN," he said in an interview. "They should be prepared to explore the opportunities to engage in a broader production network through supply chain links among ASEAN firms. Business matching and networking, distributorship, franchising, partnerships and joint ventures are some fast ways to [accelerate] the learning curve," Mr. Siphana said.
---