Africa regional blocs eye joint pact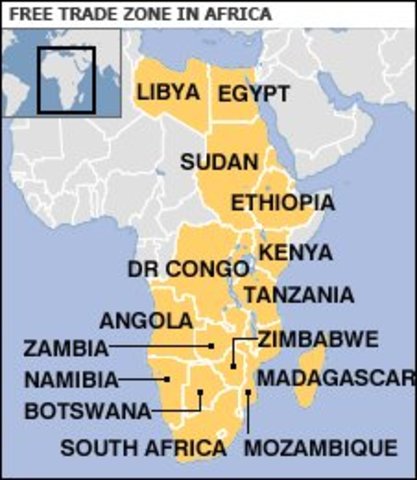 New Vision | Nov 30, 2014
Africa regional blocs eye joint pact
By Faridah Kulabako
Traders from regional blocs of East African partner states, the Common Market for Eastern and Southern Africa (COMESA) and the South African Development Community (SADC), could soon trade freely among themselves if the heads of state ink a tripartite agreement next month.
The agreement, which will be signed in Cairo, Egypt, seeks to create a free trade area (FTA) for Africa's three regional economic blocs of the East African Community, COMESA and SADC to enable seamless flow of trade and contribute towards economic growth.
The commissioner of external trade in the Ministry of Trade, Industry and Cooperatives, Silver Ojakol, told New Vision that the deal is long overdue.
He said signing it will pave the way for increased trade volume among the three trade blocs.
"We have made significant progress in negotiations on trade in goods. We now need to expedite negotiations on trade in services, development of interlinking infrastructural projects and how to move in terms of industrialization."
Ojakol, however, said most of the clauses in the agreement have been finalised, apart from the preamble and the rules of origin.
The tripartite was established in 2005, with an objective of accelerating economic integration of the continent and achieving sustainable economic development to alleviate poverty and improve people's standard of living.
Ojakol, however, noted that the COMESA secretary general, who is also the chairperson of the COMESA-EAC-SADC tripartite taskforce, Sindiso Ngwenya, is currently in South Africa to tie up loose ends.
The ministers from the three regional blocs met in Bujumbura, Burundi last month and agreed that the Cairo tripartite summit will launch the free trade area.
The ministry official said the free trade area will offer huge opportunities for business and investment and will attract foreign direct investment into the tripartite region.
The business community is also expected to benefit from an improved and harmonised trade regime in a 26-nation free-trade zone and enjoy the reduced cost of doing business.
Uganda currently trades more with her regional neighbours, as opposed to the traditional markets of Europe and America. For instance, South Sudan is Uganda's biggest trading partner, with annual export revenue of over $358m as per the 2013 data from the trade ministry.
The DRC market is the third largest export destination for Ugandan products, after Sudan (South and North) and Kenya, according to Uganda Export Promotion Board figures.
Last year, Uganda's exports worth $268m made their way to the DRC market. Kampala City Traders (KACITA) spokesperson Issa Sekitto said the signing will be a good development towards growth of intra-regional trade.
He, however, added that there is need for political will to implement such agreements, instead of remaining on paper.
"Uganda is a signatory to a number of trading agreements, but when you import or export goods to those markets, the taxes are always high," Sekitto said.
Thus, the 26-member country free trade area, with a combined population of 625 million people and a Gross Domestic Product of $1.2 trillion, will create huge trade opportunities for Ugandans.
---