AIT denies tying beef to TIFA, visa waiver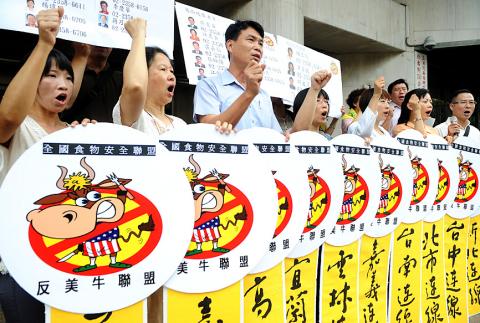 Taipei Times | 31 May 2012
AIT denies tying beef to TIFA, visa waiver
DENIAL DISMISSED: KMT lawmakers said after meeting with William Stanton that Washington would resume TIFA negotiations once the beef import issue is resolved
By Shih Hsiu-chuan / Staff reporter
The American Institute in Taiwan (AIT) and the Ministry of Foreign Affairs yesterday denied that the AIT was "menacing" Taiwan, as the Democratic Progressive Party (DPP) put it, by tying a resumption of trade talks under the Trade and Investment Framework Agreement (TIFA) to the US beef issue.
Whether Taiwan would allow imports of US beef containing residues of the leanness-enhancing animal feed additive ractopamine was an issue affecting relations between Taiwan and the US, AIT spokesperson Christopher Kavanagh said.
"To say that we are threatening [Taiwan], I think, no, clearly no," Kavanagh said.
Kavanagh also denied the DPP's claims about an exchange of interests between Washington and Taipei in which the US nominated Taiwan as a candidate for its visa-waiver program three weeks before the January presidential election, according to the DPP, to boost President Ma Ying-jeou's (馬英九) re-election chance in return for the Ma administration's promise to lift the import ban.
"No, there is absolutely no relation between visa waiver and beef. Visa waiver is governed under US laws and a country has to meet requirements of the laws to move forward in the process. It has nothing to do with beef, absolutely nothing," he said.
"But beef, we can say that it has been a stumbling block in our trade agenda with Taiwan. Beef was the only factor which thwarted our efforts to resume our TIFA talks in 2010 and in 2011 ... We hope to resume TIFA talks as soon as possible," Kavanagh added.
Initiated by the Chinese Nationalist Party (KMT), several party lawmakers met with AIT Director William Stanton on Tuesday to get a better idea of how lifting the ban would benefit the country in the advancement of bilateral relations.
The lawmakers told the press that the US would resume TIFA talks once the beef issue is resolved and a resolution of the issue would facilitate Taiwan's inclusion in the US' visa-waiver program and participation in a regional trade bloc.
At a meeting of the legislature's Foreign and National Defense Committee yesterday, DPP Legislator Tsai Huang-liang (蔡煌瑯) lambasted the US for what he said was Washington's blatant intimidation by stalling the TIFA talks while the beef issue remains unresolved.
DPP Legislator Hsiao Bi-khim (蕭美琴) suspected a "backroom deal" between the Ma administration and the US as she said the government was "offering up the public's health as a sacrifice" in exchange for progress on issues such as the visa waiver and TIFA negotiations.
In response, Deputy Minister of Foreign Affairs Tung Kuo-yu (董國猷) said the US did not pressure Taiwan to begin importing US beef containing residues of ractopamine and reiterated that the Ma administration has not made any promises to the US on the beef issue.
---