Anti-FTA protests to continue on last day of FTA talks
2007/03/30
Anti-FTA protests to continue on last day of FTA talks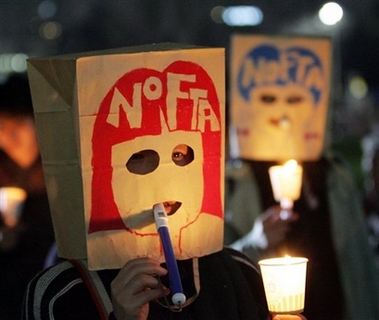 SEOUL, March 30 (Yonhap) — Protests against free trade talks between South Korea and the United States are expected to continue here Friday as negotiators make a last-ditch effort to find ways to conclude a deal before a weekend deadline.
The Korean Alliance Against the Korea-U.S. FTA, a coalition of civic groups opposed to the free trade agreement, said it plans to hold an evening candlelight protest in downtown Seoul with more than 10,000 workers, farmers and activists taking part.
The candlelight vigil is expected to be preceded by sporadic daytime protests across Seoul, police said, adding about 10,000 riot police will be deployed to head off any possible violence.
Some previous anti-FTA rallies erupted into violence. Last November, massive anti-FTA demonstrations left 63 people injured, including 35 police officers.
Seoul and Washington are striving to narrow differences on rice, beef and a few other key items to conclude the 10-month-old negotiations.
South Korean President Roh Moo-hyun and U.S. President George W. Bush exchanged their "political will" over the phone Thursday night to underscore their determination to conclude a deal.
A South Korean negotiator on Wednesday said he remains optimistic that a deal can be reached by Friday, the de facto deadline, but stressed some contentious issues linger.
On Friday morning, a group of 40 South Korean lawmakers held a news conference in the National Assembly, arguing their government is "cutting corners" in trying to seal a deal with the U.S.
Dubbing their meeting an "emergency conference to oppose a knocked-up FTA deal and save the country," the lawmakers, including those who have been on a hunger strike over several days, argued the free trade talks would end up heavily favoring the U.S.
On Thursday, a group of liberal lawyers and scholars also joined rallies against the talks. The progressive Lawyers for a Democratic Society said it began a sit-in protest with tens of its members participating.
In another development, an association of about 260 college professors and scholars released a statement contending that an FTA with the U.S. would deepen economic disparities and undermine social harmony in South Korea.
Moon Sung-hyun, head of the minor Democratic Labor Party, has also stayed on a hunger strike for three weeks in front of the presidential house, Cheong Wa Dae, in protest of the government's "hasty moves" to seal a deal.
The negotiators from Seoul and Washington need to conclude the talks by early Saturday morning to take advantage of Bush's fast-track trade promotion authority, which expires on July 1.
The authority requires U.S. negotiators to submit a deal by April 2 for a mandatory 90-day congressional review. Friday (Washington time) is the last working day before the April 2 deadline.
Analysts forecast any deal would boost bilateral trade, which totaled US$74 billion last year, by up to 20 percent, while others say that conglomerates would be the only beneficiaries and that the general public would suffer.
An FTA with the U.S. would require ratification by the South Korean National Assembly, where supporters outnumber opponents.
---