Argentina nears China hog deal it hopes could turbocharge local pork production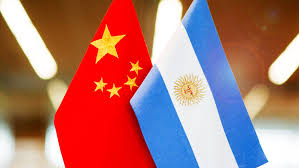 Reuters
Argentina nears China hog deal it hopes could turbocharge local pork production
By Maximilian Heath and Hallie Gu
29 July 2020
BUENOS AIRES/BEIJING (Reuters) - Argentina is nearing an initial agreement with China that could pave for the way for potential investments by the Asian giant in local pork production for export, Argentina's undersecretary of trade and investment promotion told Reuters.
That could eventually lead to Chinese-backed hog farms in the South American nation more famed for its cattle-rearing grasslands, at a time when Beijing is looking to diversify pork supply after domestic farms were hit hard by African swine flu.
Pablo Sivori said a memorandum of understanding could be signed with China in the coming weeks. The country's foreign minister Felipe Sola said earlier this month Chinese investment could help Argentina massively increase pork output.
"We have already agreed on the content of the memorandum," Sivori said, adding that the foreign ministry had asked the Chinese government to sign the document virtually.
He added the planned MOU came after a process initiated by the private sector, and would involve frameworks for investment in Argentina, along with cooperation in areas of health, scientific and technological research related to the sector.
Argentina is already a major beef supplier to China, but a bit-part player in the global pork market. According to official data, in 2019 it produced 630,000 tons of pork, of which just 34,000 tons were exported.
However, the prospect of Chinese interest has sparked wild dreams of growth possibilities. Foreign Minister Sola said this month that Argentina could produce a lofty 9 million tons of pork with Chinese backing, over 14 times current levels.
In March, Beijing urged China's pork companies to invest in supply chains abroad to import due to the devastating effects of the African swine fever on Chinese herds.
China's agriculture and commerce ministries did not respond to requests seeking comment.
Lisandro Culasso, head of the Argentine Association of Pig Producers (AAPP) there was "Chinese interest" in the country, though any investments would depend on the signing of a memorandum between the two countries.
Experts on both sides however threw cold water on the idea Argentine pork production could scale-up quickly.
Sivori said sanitary production measures established by local authorities would need be followed, meaning the country could only gradually double production within around four years.
An executive with a Chinese firm that has invested in animal farming sector overseas added that Argentina was a "quite risky" place to invest given local market volatility and the physical distance with China that would make shipping live pigs tricky.
"It is more feasible to ship frozen pork than live pigs for sure, but that also means you need to have a more extensive production chain there, and manage labor-intensive slaughterhouses in Argentina," he said.
"Just the idea alone can drive you crazy."
Reporting by Maximilian Heath in Buenos Aires and Hallie Gu in Beijing; Editing by Adam Jourdan and Alistair Bell
---