ARV AIDS drug is threatened in Indonesia
JOTHI – The Indonesia PLHIV Network
Press release
Jakarta, 13 October 2010
ARV AIDS drug is threatened in Indonesia
EU-India FTA must erase intellectual property rights provision
which is not tolerant toward generic drug – save AIDS drug all
over the world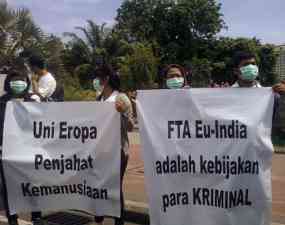 After a week of openend action in front of EU representative office (6/10/2010) to save ARV by rejecting EU – India FTA with promises by the EU that they will consider specific clause on medicines production to stay in line with TRIPS Flexibility agreement. Beside its promises, the Indian once had stated that what ever happen,
India will never sign this kind of FTA with EU. Indian Pharmaceutical manufacturers have enabled over 80% of HIV treatment to reach developing countries around the globe, by this reason India will keep on producing generic medicines for the world.
Without taking humanity into consideration and the efforts all over the world, the European Union (EU) is currently pushing its aggressive policy to cut off access to generic drugs. If the EU succeeds in rolling out this policy, millions of people across the globe will suffer because of highly‐priced essential drugs. Ironically this has been an effort to save the EU from economic crisis, which also might be an attempt to sustain its huge economy with greedy and profiteering motives.
The EU‐India FTA
with the IP provision TRIPS Plus is massive genocide scenario.
Same activity had been conducted all over the world to reject this FTA which
predicted as a crime against public health. As understood that this fight is not an easy one, for example where violence happening to India activist when they try to voice their rejection on the FTA with IP Provision which will bring negative impact to generic medicines.
On 6‐8 October 2010, EU – India FTA discussions will be renegotiated and the discourse will enter a more serious stage. The EU – India FTA is becoming a mass murder machine that will have a disastrous impact on millions of our brothers and sisters all over the world. In Indonesia, an EU – India FTA will create negative impacts during the Presidential Decree year 2010, affecting Equitable Development Programs including improving the quality and quantity of ARV treatment towards achieving the MDG 6th indicator - to combat HIV/AIDS and other diseases.
JOTHI (Indonesian PLHIV Network), announces an open challenge against the EU–India FTA which clearly demonstrates a vicious act against humanity as well an obvious effort to oppress the right to health, along with metadon community in Jakarta together push EU to stop FTA planned. JOTHI urges and demands that the EU stop its neo-colonialist antics on our economic, social, health and human rights through their strategically planned EU – India FTA. The EU must fulfill its care, commitment and promise to sustain the right to health.
We are asking the Indian Government not to sign FTA for the people's good.
We request the Indian Government to conduct a through investigation on violence in India towards activists who reject the EU – India FTA.
We ask that the Indonesian Government save the 1 million citizens of Indonesia who are predicted to be infected with HIV by the years 2015, by developing our domestic capacity to produce generic ARV medications at affordable prices under 270 USD/year/patient.
For more information please contact : Andreas P.I. (+62 87883873036)
---