ASEAN leaders call for boosting connectivity, resolving RCEP trade talks "expeditiously"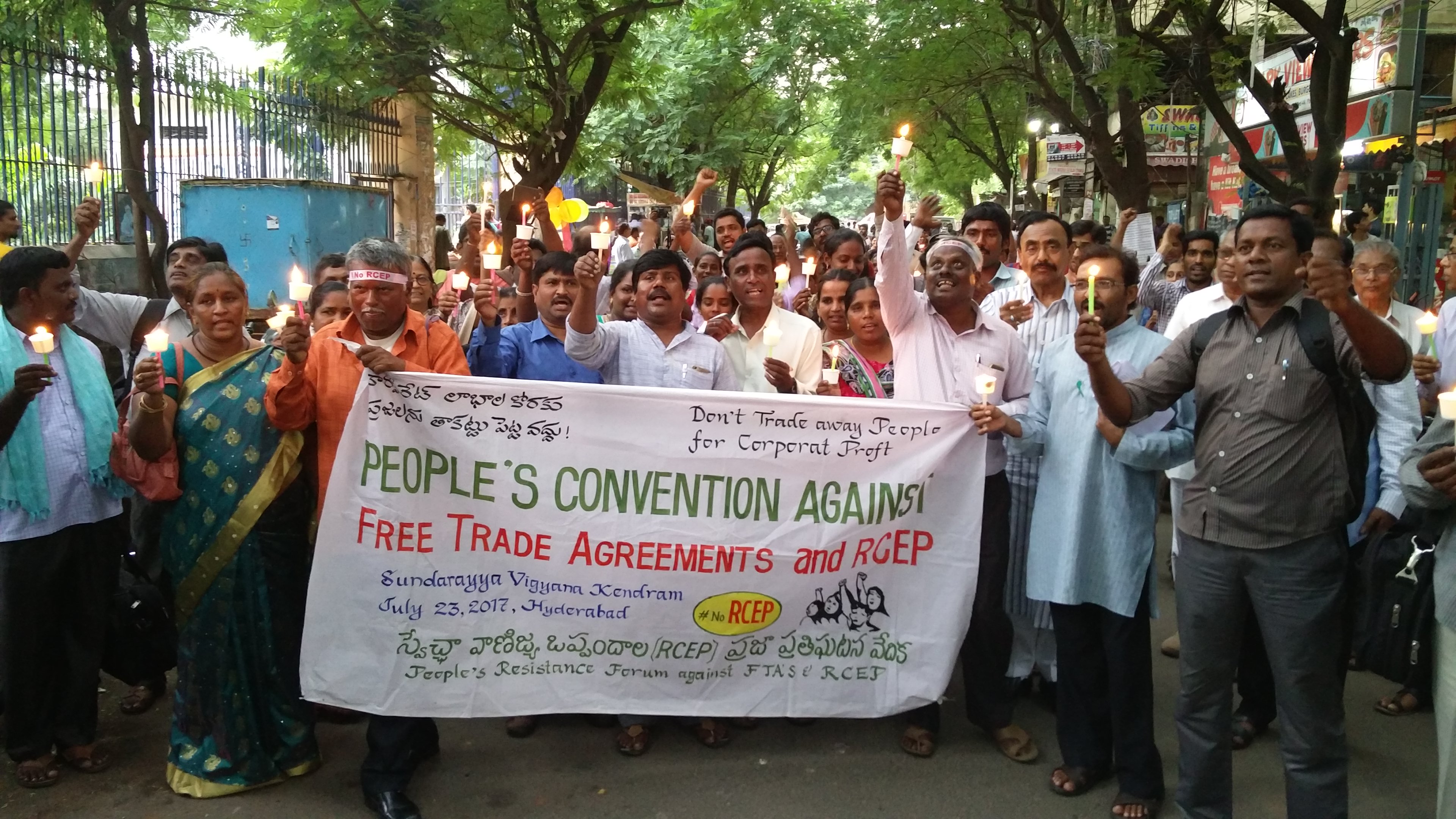 ICTSD | 3 May 2018
ASEAN leaders call for boosting connectivity, resolving RCEP trade talks "expeditiously"
Leaders of the Association of Southeast Asian Nations (ASEAN) gathered in Singapore on Saturday 28 April to review the bloc's goals going forward, with Singaporean Prime Minister Lee Hsien Loong calling for greater regional collaboration and integration as a way to bolster against external pressures, including trade tensions among major economies such as the US and China.
This year's summit was held under the themes of strengthening resilience and innovative capacity, with Singapore serving as the event's host.
After the meet, the ASEAN chairperson released a statement describing officials' discussions, including their concerns over shifting geopolitical and economic realities; their interest in boosting regional economic cooperation and enhancing connectivity; and their goals of strengthening cybersecurity and facilitating "smart and sustainable" development.
"The open, rules-based multilateral trading system which has underpinned the growth of ASEAN is under pressure. The political mood in many countries has shifted against free trade," said Lee at the opening ceremony.
In particular, Lee cautioned that burgeoning trade tensions between China and the US could have implications for the Southeast Asian bloc. Earlier this year, the US imposed global tariffs on steel and aluminium imports, with some country and product exceptions, which prompted China to impose its own tariffs on select American products. (See Bridges Weekly, 29 March 2018 and related story, this edition)
"ASEAN countries will have to react to these major external trends," Lee said, highlighting the importance of the bloc taking on a united front and doing more to boost their internal collaboration and thus "remain a central, dynamic driving force."
The ASEAN grouping brings together Brunei, Cambodia, Indonesia, Laos, Malaysia, Myanmar, the Philippines, Singapore, Thailand, and Vietnam, with the goal of facilitating economic, political, and socio-cultural integration. Last year the bloc celebrated its 50th anniversary.
Economic, trade integration
The bloc's priorities for economic integration and trade cooperation this year include developing trade facilitation programmes further and giving political support to regional trade negotiations; supporting the development of new rules in e-commerce; boosting services trade; developing an investment climate that draws greater international interest; and cultivating a more conducive regulatory environment.
Trade facilitation initiatives, in particular, include promoting the operation of the ASEAN Single Window, a digital platform that some members have adopted with the goal of lowering trade costs, reducing border lag times, and facilitating customs procedures, for example.
This single window is currently operational among five ASEAN members, namely Indonesia, Malaysia, Singapore, Thailand, and Vietnam. These members began to exchange preferential certificates of origin under the ASEAN Trade in Goods Agreement from January 2018, and leaders have called upon other countries to adopt this single window platform while expanding its use.
In the area of e-commerce, ASEAN countries expect to set up a separate agreement this year, with the aim of developing new rules in this respect and facilitating the bloc's efforts at improving internal connectivity and boosting trade flows. The coalition has already endorsed a deal to cooperate with another regional partner, Australia, on digital trade standards, which was announced earlier this year at a separate summit and means to bring the region's regulations in line with the evolving technological landscape, while ensuring that this digital boom also supports inclusive growth.
On the services and investment front, ASEAN countries are continuing work on improving the regulatory environment and promoting cross-border transactions under the respective agreements. In services trade, countries plan to make their services exports more competitive and to clinch a "trade in services" agreement," with the latter due to be completed before 2018 draws to a close. Other priorities include boosting internal collaboration on investment within the bloc, namely by taking steps to draw in more investment from abroad.
Regional trade talks in focus
Leaders also flagged the importance of advancing regional trade negotiating efforts, along with how to ensure that the group can continue positioning itself as a core regional structure for broader geographic cooperation.
According to the Chair's statement, ASEAN members have committed to ramping up their efforts at both negotiating and implementing free trade agreements with key partners, without setting concrete timeframes for doing so.
"We encouraged the swift conclusion of the Regional Comprehensive Economic Partnership (RCEP) negotiations," says the statement, referring to an ongoing negotiation among 16 countries for a regional trade accord. "To this end, we instructed ministers and officials to exert all efforts to resolve outstanding issues to bring the RCEP negotiations to a conclusion expeditiously."
RCEP is an ongoing negotiation process built upon the existing agreements of ASEAN with its six dialogue partners: Australia, China, India, Japan, New Zealand, and South Korea. The talks began six years ago and address topics such as goods and services trade, investment, economic and technical cooperation, intellectual property, competition, dispute settlement, e-commerce, and small and medium-sized enterprises (SMEs), among others. The latest round of talks was held in Yogyakarta, Indonesia.
The talks are moving forward, Chinese Ministry of Commerce (MOFCOM) spokesperson Gao Feng told Xinhua News Agency last week.
"Related parties are showing an active attitude in pushing the RCEP, and the pace of negotiations is speeding up," he said.
According to the MOFCOM official, key areas such as trade in goods, services, and investment, are well advanced. The 22nd round of negotiations is currently underway in Singapore from 28 April to 8 May.
"Smart cities" network launches, with sustainability in focus
Another announcement from Saturday's meeting was the launch of an ASEAN Smart Cities Network. The network's goal is to "catalyse more opportunities for growth, innovation, capacity-building, climate change mitigation and adaptation and sustainable development while promoting mutual cultural understanding," according to the leaders' statement.
According to a separate "concept note," the 10 ASEAN countries could see up to 90 million people move to cities by 2030, thus requiring collective action to both use this movement to support economic growth while ensuring that such population shifts do not create undue environmental strains.
Twenty-six cities from all ASEAN countries have been named as pilot cities. Among those are Singapore; Bandar Seri Begawan, Brunei; Johor Bahru, Malaysia; Bangkok and Phuket in Thailand; Hanoi and Ho Chi Minh City in Vietnam; Yangon, Myanmar; Phnom Penh and Siem Reap in Cambodia; and Vientiane, Laos. The network is envisioned as a "collaborative platform" for cross-city collaboration, with the wider objective of achieving "smart and sustainable urban development."
ASEAN officials say that this new network, which can include three cities per country, would advance an inclusive approach that incorporates city-specific needs and capitalises on cities' potential, as well as considering other local factors such as development levels. They are also due to adopt individual city "action plans" for the next seven years.
In the area of renewable energy, ASEAN countries will "continue to work towards regional targets," in line with a previous arrangement reached with the International Renewable Energy Agency (IRENA) which includes, among other provisions, a goal of doubling the share of renewables in the region's energy mix by 2030.
Climate change is mentioned as another area of cooperation for ASEAN countries. In particular, the 10 countries had pledged to share information and take other steps to support the UN's Paris Agreement on climate change and meet their national-level action plans under the climate accord.
On sustainable development, the ASEAN chair's statement refers to the importance of cooperating to meet both regional goals as well as the UN's 2030 Agenda and the related Sustainable Development Goals (SDGs).
---