Asean members reaffirm 90 per cent tariff cuts under RCEP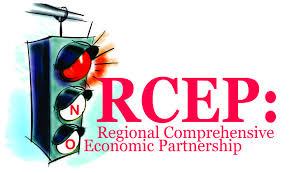 Bangkok Post | 14 March 2017
Asean members reaffirm 90 per cent tariff cuts under RCEP
Asean members are holding to their vow to cut import tariffs on 90% of products, amounting to 5,000-6,000 items under the Regional Comprehensive Economic Partnership (RCEP), over the next 15 years. They also plan to push for the conclusion of negotiations this year.
According to Commerce Minister Apiradi Tantraporn, who just returned from the 23rd Asean Economic Ministers Retreat in Manila bloc members will raise the issue of further discussions with six dialogue partners later this month, so that the pact can be signed at the Asean Summit in November.
The RCEP was launched in November 2012 with the aim of establishing deeper economic cooperation among the 10 Asean members and six trading partners: China, India, Japan, South Korea, Australia and New Zealand. The member countries represent 29% of global trade. The 16 countries have missed the deadline for concluding negotiations twice, in 2015 and last year.
The RCEP is now viewed as an alternative to the Trans-Pacific Partnership (TPP) trade agreement, which excludes China and India and includes several nations of the Americas, after the United States decided to pull out of the TPP in January this year. Twelve Pacific Rim countries led by the US concluded the TPP agreement on Oct 5, 2015. TPP countries comprise 40% of global trade.
"Although the RCEP talks are yet to be completed, all Asean members have reaffirmed the push for tariff reductions covering not fewer than 90% of all products, as well the conclusion of talks late this year," said Mrs Apiradi. In 2016, Thailand's total trade value with RCEP countries amounted to US$240 billion (8.48 trillion baht), accounting for 59.3% of Thailand's total trade value.
Thai exports to RCEP nations were valued at $120 billion, or 55.7% of total export value. Imports were worth $122 billion, accounting for 63.3% of total imports.
During a joint meeting last Friday, Asean economic ministers and their EU counterparts also agreed to revive free trade agreement (FTA) talks between the two blocs, she said.
The EU and the 10-nation Asean launched talks with the aim of hammering out a pact in 2007, only to abandon that process two years later. The EU opted instead to conduct bilateral negotiations with individual states.
The initial EU-Asean negotiations were halted in large part due to the complexities of setting common standards among 10 Southeast Asian countries, their their varied political systems and stark differences in both the sizes of their economies and populations.
Human rights problems have also been an issue for many Asean states such as Vietnam, Thailand, Malaysia, Cambodia and Laos, creating an obstacle for the EU, which is required to consider human rights issues in its trade policies.
Mrs Apiradi said the two sides have assigned senior-ranking economic officials to jointly discuss and map out a FTA negotiation framework, to be submitted at the next meeting of economic ministers.
The date of the next meeting is yet to be decided, but should be held before the Asean summit. She said an Asean-EU FTA, if implemented, would greatly benefit not only the region, but also Thailand.
"European investors pay a lot of attention to Asean, as the latest EU-Asean Business Sentiment Survey, which is based on a survey of business executives from European companies across Southeast Asia, has shown, with 74% of European investors foreseeing an increase in Asean-based businesses. The region will significantly contribute to world economic growth for the next five years," said Mrs Apiradi. "Nearly two-thirds plan to expand their business operations in Asean, while 85% are willing to increase regional trade and investment."
The study also revealed that European businesses in the region are interested in strengthening trade relations between the EU and Asean, with almost two-thirds (66%) of European companies wanting a European region-to-region free trade agreement with Asean, and more than half (58%) feeling they are at a competitive disadvantage without an overarching EU-Asean FTA. In 2016, two-way trade between Asean and the EU totalled US$208 billion.
---