Belgium cannot sign CETA, PM Michel admits
All the versions of this article: [English] [français]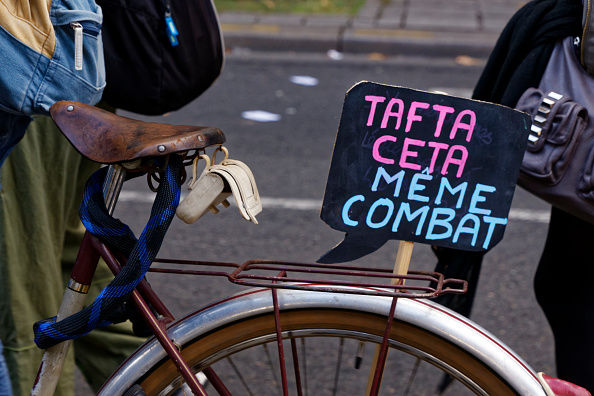 EurActiv | 24 October 2016
Belgium cannot sign CETA, PM Michel admits
By Georgi Gotev
Belgium is not able to sign off on a landmark EU-Canada free trade deal after Wallonia and other regional administrations refused to give the federal government the go-ahead, Prime Minister Charles Michel said today (24 October).
"We are not in a position to sign CETA," Michel said after brief talks with Belgium's regional leaders in Brussels broke up without an accord, despite a looming EU deadline of late Monday.
"The federal government, the German community and Flanders said 'Yes.' Wallonia, the Brussels city government, and the French community said 'No','" he added.
Michel stated that he was still open to dialogue with the main holdout, the region of Wallonia and that it was too early to say whether CETA was dead.
For those who have followed the positions of the Wallonia region and its leader Paul Magnette, this development is hardly a surprise.
The European Commission already signaled that it did not expect a positive outcome today. Speaking at the midday briefing, Commission spokesperson Margaritis Schinas said the executive was against any ultimatums and deadlines and advocated for patience.
A source had said that Council President Donald Tusk would call Michel this afternoon or evening with a "simple question": Whether Belgium will be in a position to sign the agreement on Thursday (27 October) when Canadian Prime Minister Justin Trudeau arrives for an EU-Canada summit. This was interpreted as an ultimatum to the Belgian authorities.
Magnette rejected the "ultimatum" as "incompatible" with democratic practice when it was disclosed on Sunday (23 October).
If Belgium is not in a position to say that they can sign, Tusk thinks it doesn't make sense to have a summit, the source said. In fact, Tusk and Trudeau need to jointly decide on canceling the summit.
The Walloon parliament has made an in-depth analysis of CETA and expressed concerns over a long list of issues. The European Commission rapidly came up with an 8-page paper said to address the concerns. In addition, a page and a half-long document addressed concerns about the mechanism for settling disputes with investors.
Belgium's RTBF news reported that the latest document failed to satisfy Walloon politicians. Magnette's position appears to be that the Walloon parliament should return to the matters.
Wallonia parliament head André Antoine says more time is needed to study a draft deal which is massively complex and covers "300 pages of the treaty, 1,300 pages of appendices."
---