Breaking new ground: The EU's push for raw materials sovereignty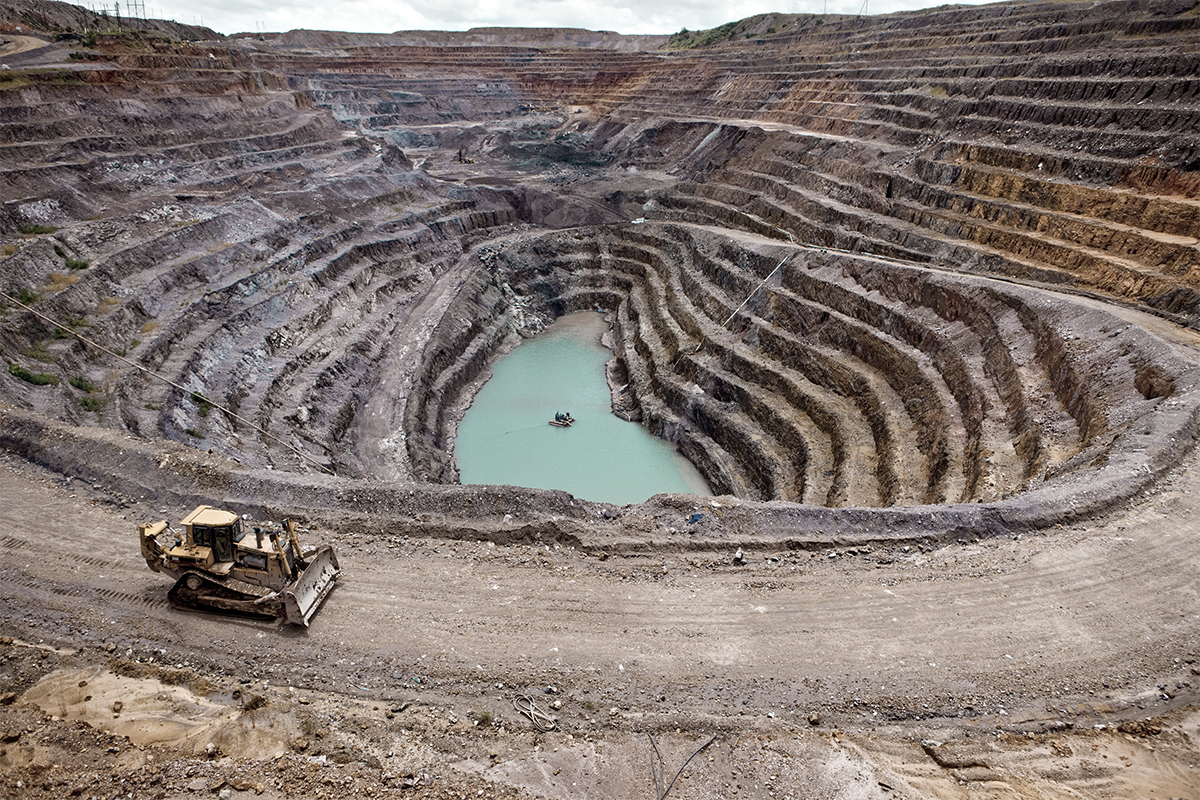 Euractiv | 18 November 2019
Breaking new ground: The EU's push for raw materials sovereignty
By Laura Cole
A new pro-mining investment policy, more free trade deals, and an incoming "geopolitical" European Commission signals the EU will stake more claim on critical raw materials.
Raw materials experts from Japan and the United States descend on Brussels this week for an annual trilateral with Europe. The conversation is likely to focus on supply risks to critical raw materials, among them those in high demand for the low-carbon transition, such as rare earths used in wind turbines, and lithium used in electric car batteries.
Though generally an informal meet, global trade tension will give the talks a more geopolitical edge. Australia, Canada and South Korea delegates have joined as observers. China, although it produces 70% of the world's raw materials, is not involved.
"The three regions are significant net importers of critical materials, mainly, but not exclusively from China," says Erika Faigen, an expert on global rare earths value chains based in Melbourne, Australia.
"The access to these minerals and materials will define who is in a strong position for the low-carbon transition," she said.
Resource sovereignty
Access is exactly what Japan, the US and EU would like to secure. The trilateral talks were initiated during the "rare earths crisis" in 2011 when the world's leading developed nations became wary about supply risks.
At that time, a trade dispute between China and Japan raised anxieties that Beijing could stem supply of the metals, which are irreplaceable for technology.
Together, the group of three co-ordinated a WTO case against China to counter Beijing's quotas policy on rare earth exports.
Rare earths aren't the only raw material worry. Since 2011, all three of the technological powers have created their own lists of critical raw materials (CRMs) and made efforts to create diverse supply chains outside of China. Last summer, fraying US and China relations brought the issue of raw materials security back to the fore.
"It was a wake-up moment for the US, Japan and Europe," says an EU source.
Europe's latest assessment numbered its dependency at 62% on China for its 27 critical raw materials. In the newest assessment, due in Spring 2020, it is unlikely the dependence has lifted since, and very likely that the EU's list of critical raw materials has grown longer.
For the incoming European Commission, resource sovereignty has become a key priority.
Maroš Šefčovič, the EU Commissioner-designate for foresight, formerly in charge of the Energy Union, says this can be boiled down to one question: "How can the European Union make sure that it does not end up a middle power, caught between the two hegemons – the Unites States and China?" he asked at a European Strategy conference in October.
Digging closer to home
"We cannot sit idle while China is taking control of all the supply," Šefčovič told a roomful of EIB board members last June, when he implored them to include more mining investment in the energy lending policy.
"We have identified with the Member States that there are 10 potential mining projects for lithium that, if developed, could allow the EU to move from 1 to 30% of the world production by 2030," he said.
It appears to have worked. The bank's energy lending policy, rubber stamped last week, is the first to include mention of critical raw materials. As the axe came down on lending to fossil fuel projects, new investment was earmarked for mining operations.
Across the member states, potential mining sites are beginning to appear. There are rare earth projects in Norway, cobalt in Finland and lithium potential in Spain, the Czech Republic and Portugal.
Public perception, however, is one of the greatest hurdles. Mining can be a hard sell to European societies, not least because the green transition has become associated with less extraction, particularly that of fossil fuels, not more.
There is a desire from the industry to try and change the narrative about mining. In a new vision paper, the European Mineral Resources Confederation (EUMICON) calls on the EU to acknowledge the raw and advanced materials sector as a "sunrise industry".
An EU-funded project, called Mireu, is also in the process of surveying European's perceptions of mining.
For Europe's high-tech industries, the challenge is almost existential. "We need to be more independent on the availability of raw materials if we want not only to be able to master the transformation of our industries and business towards a low-carbon economy, but even more to keep these value chains in Europe," said Gilbert Rukschio, managing Partner of Pantarhei Advisors, a consultancy advising clients in raw materials strategy.
But even if new mining sites are opened, a major question is how they can compete against cheaper imports from abroad, notably China and Africa.
"That's the million dollar question," says Fiagen. The EU's environmental regulations such as Natura 2000 protection areas, Birds and Habitats Directive, the Water Framework Directive and biodiversity regulations require European raw materials companies to jump through higher hoops at greater cost.
"What we really need to get is markets that value these aspects, rather than just the cheapest materials," an EU source told EURACTIV. "There is a whole market-creation side of this, which we are trying to address in the industrial strategy." The new industrial strategy will arrive alongside the new critical materials list in spring 2020.
A new 'geopolitical' Commission
In the time it takes for new mines to come online, the EU is on the lookout for critical resources outside of its borders. And the question remains: how can Europe secure raw material sovereignty without making environmental or social trade-offs somewhere down the line?
New Commission President Ursula Von der Leyen has signalled it will be through the Union's trading clout. In her mission letter to incoming trade Commissioner Phil Hogan, she said trade agreements could "incentivise" other countries to higher standards outside of its own jurisdiction.
In other words, the EU could use it trade policy leverage to get better environmental and social results abroad. "This is where the 'geopolitical commission' could come into play," says an EU source.
The argument has already been used in defence of the Mercusor deal which advocates argue will pressure the South American countries involved to maintain the requirements of the Paris Agreement on climate change. Critics, however, point to the fallout over last summer's Amazon wildfires as proof that trade leverage has limited effect.
When it comes to critical raw materials, the Commission is exploring fair trade agreements with Australia and Chile, which produce sizeable amounts of lithium, among other minerals. The Canada-Europe CETA free trade agreement, which is now almost entirely in effect, was identified by German industries as a boon for sourcing nickel and rare earths.
In her letter to Hogan, von der Leyen identified a continent-to-continent free trade agreement with Africa as a priority. With significant reserves of critical raw materials such as cobalt and platinum metals, a deal could be a potential game-changer for European industries.
The new commission also seems intent on a more assertive stance at the World Trade Organisation. Since 2016, the EU has launched assertive WTO disputes against Chinese export restrictions of materials such as cobalt, chromium and graphite.
One of Hogan's top priorities is for reform of the dispute settlements mechanism. In his inauguration hearing, he announced a new initiative within the next year.
Vying for a level playing field, EUMICON supports the WTO reforms. "We need to strengthen our trade mechanisms, including the EU enforcement mechanism, in order to combat sanctions imposed by third countries," says the European Mineral Resources Confederation.
Sustainable supply chains
Resource efficiency is another key pillar of the EU's raw materials strategy. The upcoming European Green Deal is likely to include incentives to make raw materials life cycles more circular.
"First, a robust system to collect, sort, recycle and reuse recycled raw materials must be at centre of the EU strategy," said Green MEP Anna Cavazzini who follows raw materials policy in the European Parliament.
"Products must be repairable and have a longer use time by design, in order to maximise resource efficiency. This of course must apply to renewable technologies," she said.
The decade lifecycles of technologies such as wind turbines will mean there is a delay before they become available through recycle streams. In the meantime, if Europe continues to rely on imports for critical raw materials, there is set to be greater scrutiny of companies' supply chains.
Within a year of the new Commission, the conflict minerals regulation for tin, tungsten, tantalum and gold – or '3TG' – will also come into place. Under its requirements, large European companies that import above a certain threshold of the four components are currently preparing mandatory due diligence of their supply chains.
For all materials, the EU is due to release a toolkit to help companies, particularly small and medium enterprises, fulfil diligence under the guidelines of the Organisation for Economic Co-operation and Development (OECD).
Apart from the four conflict minerals, due diligence for minerals remains voluntary, however. "New legislation is badly needed on this topic, at EU, national and international level," Cavazzini said.
---