Call for regional action against RCEP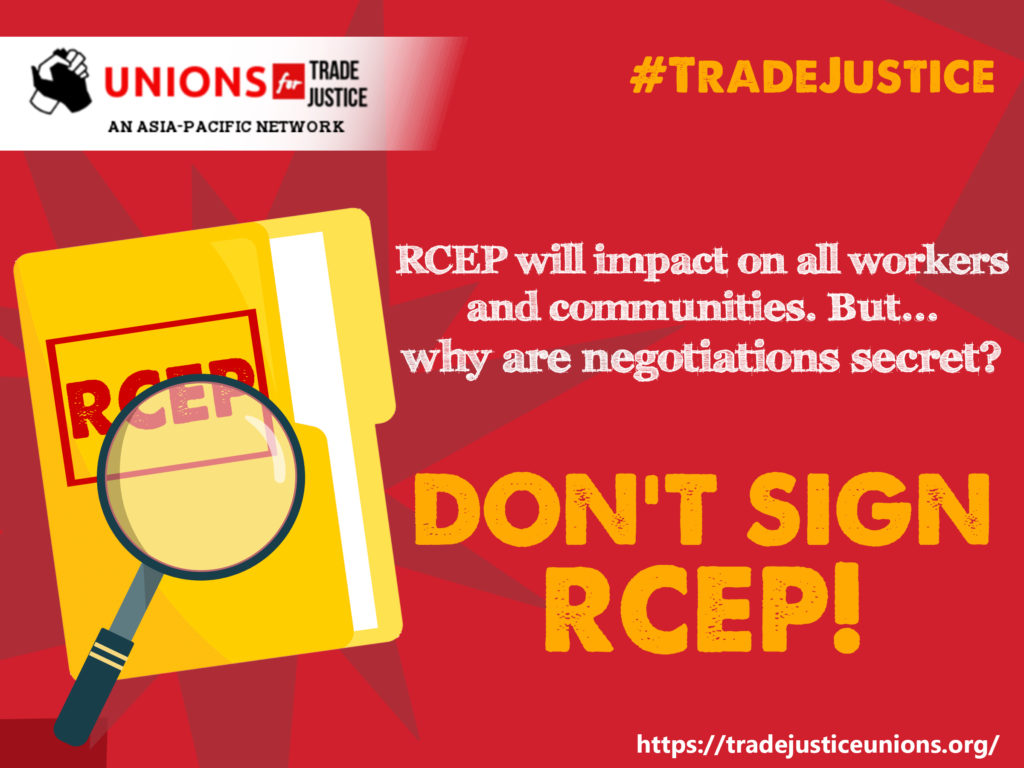 Trade Justice Unions - 29 October 2019
Call for regional action against RCEP !
Asia-Pacific governments have expressed their intention to announce the conclusion of the negotiations for the Regional Comprehensive Economic Partnership (RCEP) during the ASEAN Summit to be held on November 05th in Bangkok, Thailand.
Unions have put out their position and made demands, but these have not been taken into account. Under the banner of Unions for Trade Justice, seven Global Union Federations and their affiliates in Asia Pacific have decided to hold a series of synchronised actions, to voice their positions and opposition to the signature of RCEP in the days leading to the ASEAN Summit. Asia Pacific governments and negotiators must listen.
This page contains resources and materials for the RCEP Regional Action social media campaign.
For further information, suggested tweets and to download posters that can be used for the Twitter storm on 2 November, visit the Unions for Trade Justice website
#HASHTAGS TO USE
#TradeJustice : for all posts/actions !
Others, if capturing your union's position : #AsiaIsNotForSale, #WorkersRightsNotCorporatesRights, #TransparencyNow, #RCEPNoRush #NoRCEP
GOVERNMENT MINISTRIES/NEGOTIATORS TO TAG ON SOCIAL MEDIA
Australia : @pmc_gov_au, @dfat
India : @PMOIndia, @CimGOI, @DIPPGOI
Indonesia : @MoFA_Indonesia
Malaysia : @MITIMalaysia, @DarellLeiking,
Philippines : @dfaphl
---