Cameron pledges support for EU-US trade deal and vows to fight unions over it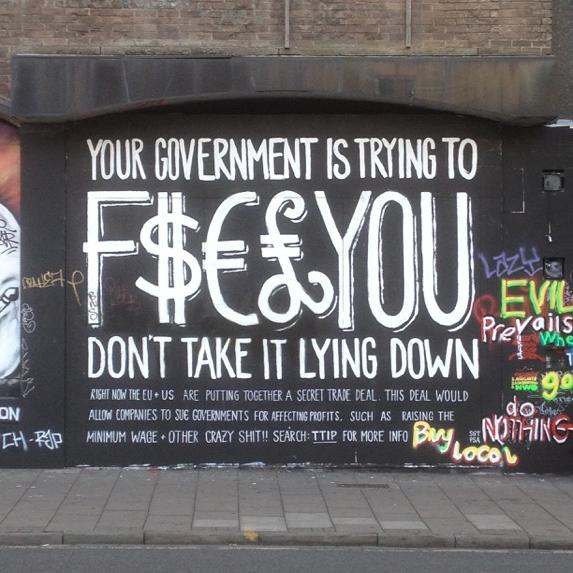 BBC News | 16 November 2014
TTIP: Cameron pledges support for EU-US trade deal
David Cameron has pledged to put "rocket boosters" behind plans for an EU-US free trade deal.
The UK prime minister said EU and US leaders had met and all agreed the Transatlantic Trade and Investment Partnership (TTIP) "is a deal we want".
Speaking at the G20 summit, he said arguments against TTIP were "weak" and fears over the NHS were "nonsense".
Many opponents are concerned about TTIP giving firms power to sue governments if they are hit by policy changes.
The EU is currently analysing responses to a consultation on this controversial element of TTIP.
It would allow foreign investors to go to an international tribunal for compensation if a government breaks the rules in a way that harms the company's interests.
'No threat'
Mr Cameron said he "sensed an enthusiasm" from EU leaders and US President Barack Obama during a meeting in Brisbane earlier, and was now "hopeful of progress" on TTIP.
The UK prime minister said the deal could be supported by the "classic free trade argument for growth and jobs and investment".
"The opportunities for Britain of trading more with the United States of America are clear," he said.
Speaking about concerns over disputes between companies and countries, Mr Cameron said: "We've signed trade deal after trade deal and it's never been a problem in the past."
On the NHS, he said: "It's in the public sector, it will stay in the public sector... it will remain free at the point of use.
"There is no threat, I believe, from TTIP to the National Health Service."
Anti-TTIP protests were held last month in the UK, Germany, France, Italy and Spain.
At their annual conference in September, delegates from UK unions unanimously backed a motion opposing TTIP.
Many unions focused on the potential impact on the NHS, saying TTIP would allow private firms to sue the government if it chose to return privately run services to the public sector.
"Shame on this government because they have privatised our healthcare with no mandate," said Gail Cartmail, assistant general secretary of the Unite union.
Food safety fears
"But they will not be allowed to sell off our health service to America."
One aim of the negotiations is to reduce the costs to business of complying with regulations.
Critics say this could lead to lower standards of protection for workers, consumers and the environment, with food safety a particular concern for some.
But Mr Cameron said TTIP would give the EU and the US a joint interest in areas like food and environmental standards.
Also at the G20, Mr Cameron reiterated his warning of possible further sanctions against Russia over Ukraine.
He said Russia must stop sending troops into the country to support pro-Russian separatists - something the Kremlin denies.
---
The Guardian | 16 November 2014
David Cameron vows he will take the fight to unions over US-EU trade deal
PM says claims from opponents of the deal that it will undermine the NHS are 'bogus'
Patrick Wintour in Brisbane
David Cameron has signalled he will take on the trade union opponents of the US-EU trade deal, insisting their arguments that it would lead to the privatisation of the health service were "bogus nonsense".
Speaking at the G20 summit in Brisbane, the prime minister said the EU and the US president, Barack Obama, had agreed to speed up the negotiations aimed at achieving a transatlantic trade and investment partnership (TTIP).
It was "time to take on some of the opponents of this deal and expose the arguments against it", he said. "This is good for Britain – good for growth and British families."
Sections of the trade union movement, campaign groups and and parts of the Labour party are virulently opposed to the deal, claiming it will undermine the NHS and expose it to private sector competition.
Cameron said that was an "empty threat" that needed to be knocked on the head.
"We have to take on the arguments. I think they are very weak. There are people who argue that this in some way could damage the National Health Service. That is nonsense. It is ... in the public sector, it will stay in the public sector – that is not going to change. There is no threat to the NHS from TTIP.
"Everyone has agreed that this is a deal that we want to do. It is part of the European Commission mandate. These deals only work if you get on with the negotiations and start making agreements, otherwise people who for whatever reason oppose these deals start gaining some traction".
He said there was a "classic free trade argument" that the deal would create jobs and investment.
"The opportunities for Britain to trade more with America are there for all to see."
He admitted that some were nervous about a deal, but said both the US and EU had an interest in ensuring it helped regulate food and environmental standards.
Cameron declined to comment on reports suggesting the British Jihadi believed to be responsible for executing hostages in Syria had been injured or even killed in allied airstrikes.
He said he wanted justice for the "appalling acts" carried out in Syria, but would not comment on individual strikes.
"If people travel to Syria or Iraq in order to conduct terror operations against British people or British citizens, and people back in Britain, they are putting themselves in harm's way and they should not be in any doubt that."
---