Canada to model post-Brexit Britain trade on CETA
All the versions of this article: [English] [français]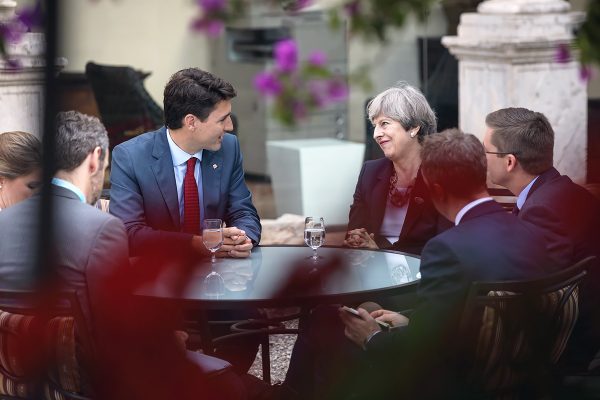 EurActiv | 19 September 2017
Canada to model post-Brexit Britain trade on CETA
(AFP) Canada agreed on Monday (18 September) to use its new free trade agreement with Europe as a template for a pact with Britain after its largest trading partner within the European Union leaves the bloc.
A working group is to be set up to look at the details, said British Prime Minister Theresa May, who came to Ottawa looking to firm up trade ties.
But the timeline for the trade negotiations remains up in the air, as Britain is required to wrap up Brexit – expected in 2019 – before embarking on separate bilateral agreements.
May and her Canadian counterpart, Justin Trudeau, spoke at a joint press conference of the importance of "stability and continuity" in the two nations' economic relationship post-Brexit.
"The UK and Canada have a strong and growing economic relationship. And we are natural partners in promoting the benefits of free trade," said May.
The EU-Canada Comprehensive Economic and Trade Agreement (CETA) is to provisionally take effect on Thursday, removing 99% of customs duties between the two sides.
Britain is Canada's largest trading partner in Europe and can take advantage of CETA as long as it remains a part of the EU.
Post-Brexit, May said: "I'm pleased that we have agreed today that CETA should be swiftly transitioned to form a new bilateral arrangement between the UK and Canada."
Smooth transition sought

Trudeau cautioned that Ottawa would respect EU rules against direct negotiations with individual EU member states, as long as Britain remains in the EU.
But he added that he wants "a smooth transition that keeps the essence of CETA applicable to the UK."
"We want to see as little disruption to economies and to people's lives and that is why we believe it makes sense to take (CETA), which the UK is a part of, (and use) that as the basis for a bilateral relationship with the UK," Trudeau said.
The two leaders also announced closer cooperation on development, disaster responses, the environment – with May confirming a British phase out of coal by 2025, and both prime ministers announcing a memorandum of understanding allowing for greater private sector "clean economy" partnerships – and defence and security.
May also offered her support for Canada in its dispute with US aircraft manufacturer Boeing, which has accused Montreal-based Bombardier of selling its new CSeries passenger jet in the United States for less than it costs to make them.
The company alleges that government subsidies allow Bombardier to sell the CSeries at cut rates, undercutting its own 737 passenger jets.
"For the United Kingdom, Bombardier jobs in Northern Ireland are important and we want to protect those," May said. Bombardier employs 4,200 workers at a Belfast plant making CSeries wing and fuselage parts.
Both May and Trudeau said they planned to bring up the case again with US President Donald Trump this week.
Trudeau also said Ottawa would cancel a planned purchase of Boeing Super Hornet fighter jets if the company did not back down.
Myanmar

"We won't do business with a company that's busy trying to sue us and put our aerospace workers out of business," he said.
May and Trudeau also expressed jointly the need for Myanmar leader Aung San Suu Kyi to "de-escalate" tensions in her country and take measures to protect vulnerable Rohingya Muslims.
The military has been accused of driving out more than 410,000 Rohingya Muslims from mainly Buddhist Myanmar to neighbouring Bangladesh in an orchestrated "ethnic cleansing" campaign.
Aung San Suu Kyi is scheduled to address the crisis for the first time in a televised speech on Tuesday.
---