Canadian groups tell gold company to 'stop harassing' Costa Ricans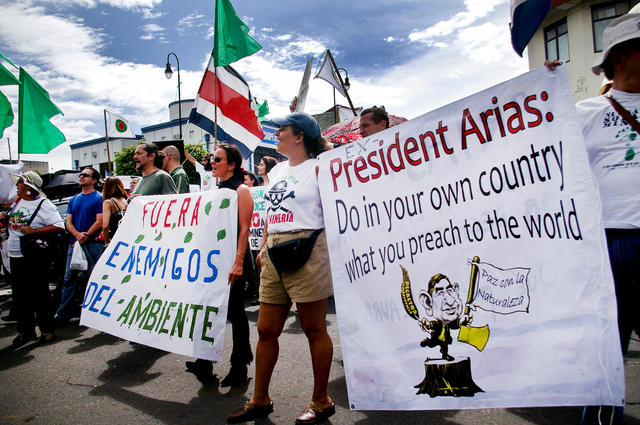 Tico Times | Wednesday, April 17, 2013
Canadian groups tell gold company to 'stop harassing' Costa Ricans
A war of words heats up between environmental groups and a gold company threatening to sue Costa Rica.
By Alberto Font
Seven Canadian environmental and human rights groups sent a strongly worded letter Tuesday to Infinito Gold mining company CEO John Morgan demanding he end the company's "decade-long harassment of the people and the government of Costa Rica."
MiningWatch Canada, Sierra Club Canada, Comité pour les droits humains en Amérique latine and four other groups asked Infinito Gold to withdraw an April 4 threat to sue Costa Rica for $1 billion over its loss of a mining concession at Las Crucitas, an open-pit mine site near the Nicaraguan border, a press release stated on Tuesday.
"Infinito Gold has tried to portray itself as the victim of a capricious court system. In reality, the Calgary-based company has tried to strong-arm Costa Rica's judiciary into overturning two Supreme Court rulings (2010 and 2011) that upheld the country's ban on open-pit mining. The courts told the Canadian company it could not develop the Crucitas mine, and told Infinito to pack up and go," a statement issued by MiningWatch Canada said.
On April 4, Infinito Gold sent a letter to Costa Rican Foreign Trade Minister Anabel González demanding the government "allow local franchise Industrias Infinito SA (IISA) to resume full operations of the Crucitas mine located in San Carlos, Alajuela, which was closed after the approval of an amendment to [the country's] Mining Law that banned open-pit mining in the country."
IISA's spokeswoman Yokebec Soto said at an early April press conference that the company "believed the investment was guaranteed, because our company was invited to the country to develop the mine."
The Canadian company already has invested $92 million in the project, and it claims to have lost $1 billion in potential profit, Soto said.
The company said it would file a $1 billion lawsuit for breach of the Costa Rica-Canada Free Trade Agreement, as outlined in protocols of the Bilateral Investment Treaty, approved by both countries.
On Jan. 30, 2011, the Costa Rican Supreme Court's Civil and Administrative Law Branch annulled the mining concession and upheld a ban on open-pit mining, approved after an amendment to the country's Mining Code was adopted in 2010.
"Instead of leaving, the company ratcheted-up a campaign of intimidation, attempting to censor a University of Costa Rica course focused on the mining project and launching defamation suits against two professors and three other Costa Ricans who have spoken out publicly about the potential impact that this mining activity could have on a fragile environment," the MiningWatch Canada statement said.
The group also claimed that in 2012, Costa Rica asked the Canadian government to "provide information about an alleged US$200,000 donation to then-President Oscar Arias' Arias Foundation in 2008, coming from Canada, and made just days before Arias decreed that the Crucitas mine was to be considered 'in the national interest.'"
"Canada's Department of Justice responded to this request in early February of this year, but has refused to comment on the information provided. The Costa Rican government suddenly announced last week that the long-time head of the Arias Foundation had been named as its Ambassador to Argentina," the statement added.
MiningWatch Canada spokesman Jamie Kneen said the company's actions have "seriously damaged Canada's reputation in Costa Rica, a country that is a favorite destination for Canadian eco-tourists."
"Today's letter calls on Infinito Gold to drop all legal actions against Costa Rica and its citizens and to leave the country. It also calls on the Canadian government to immediately divulge what it knows about the questionable payment made to the Arias Foundation in 2008," Kneen said.
Tico Times editor David Boddiger contributed to this report.
---