Carta a los ministros y ministras de la UE
All the versions of this article: [English] [Español]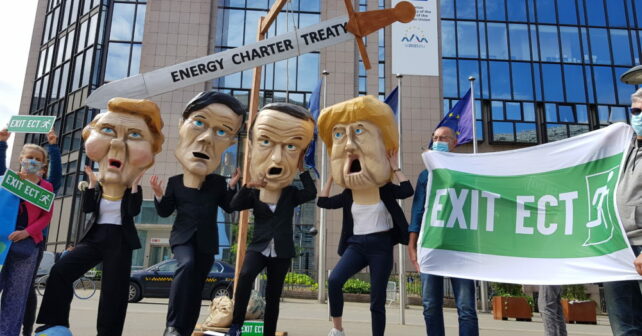 Organizaciones de la sociedad civil | Julio 2023
Carta a los ministros y ministras de la UE
Estimados ministros y ministras de energía,
Nos dirigimos a ustedes antes de la reunión informal de Ministros de Energía que tendrá lugar el 12 de julio en Valladolid. Queremos pedirles que apoyen la propuesta de la Comisión Europea para iniciar una salida coordinada de la Unión Europea (UE) y de todos sus Estados miembro del Tratado de la Carta de la Energía (TCE), y que acojan un debate sobre el TCE entre los Ministros de Energía en el seno de dicho encuentro.
El TCE es un gran obstáculo para los objetivos de soberanía energética y neutralidad climática de la UE. Asimismo, va en contra de la política de inversiones de la UE y de la legislación comunitaria. El proceso de modernización no ha logrado abordar los problemas estructurales del TCE ni alinearlo con el Acuerdo de París. Esta valoración es compartida por el Alto Consejo para el Clima de Francia, de carácter independiente, y por el Comité Británico sobre el Cambio Climático.
Una salida coordinada de la UE y de todos sus Estados miembros proporcionará la claridad y seguridad jurídica necesarias para acelerar la transición energética de la UE hacia el abandono de los combustibles fósiles. También es la opción más segura y la única que puede reducir significativamente los riesgos de demandas millonarias o multimillonarias contra nuestras políticas energéticas y climáticas, al permitir que la UE y sus Estados miembro eliminen entre sí la «cláusula de extinción» que contiene el Tratado. Tanto la Comisión Europea como el Parlamento Europeo apoyan una retirada coordinada.
Por otro lado, una adhesión dividida de la UE al TCE fragmentaría el mercado único y socavaría la representación exterior de la UE, especialmente en cuestiones energéticas y climáticas. También expondría a los Estados miembro de la UE que permanezcan en el Tratado al riesgo de ser demandados en virtud del TCE por acciones emprendidas por la Unión. Los países que continúen en el TCE también tendrán que asumir los costes de la coordinación interna y la financiación de la Secretaría del TCE.
La decisión de abandonar el TCE se ha alargado demasiado. Ha llegado el momento de que el Consejo de la UE muestre su liderazgo. El Tratado de la Carta de la Energía no es adecuado para su propósito y seguirá siendo un obstáculo para los objetivos climáticos y energéticos de la Unión, a menos que la UE y todos sus Estados miembros se retiren conjuntamente de él.
Hacemos un llamamiento a que asuma el liderazgo para que ponga fin de una vez a este proceso y apoye una salida coordinada de la UE del TCE.
Atentamente,
Nicolò Wojewoda, Europe Regional Director, 350.org
Wilhelm Zwirner, CEO, Attac Austria
Nikki Reisch, Climate & Energy Program Director, Center for International Environmental Law (CIEL)
Anaïs Berthier, Head of Brussels Office, ClientEarth
Chiara Martinelli, Director, Climate Action Network Europe
Arnaud Zacharie, Secretary General, CNCD-11.11.11
Karin Debroey, Advisor International Department, CSC
Manon Dufour, Head of Brussels Office, Third Generation Environmentalism (E3G)
Luis Rico, Coordinator, Ecologistas en Acción
Renaud Vivien, Head of Policy, Entraide et Fraternité
Fabian Holzheid, Political Director, Environmental Institute Munich
Patrick ten Brink, Secretary General, European Environmental Bureau
Juan Carlos Benito Sanchez, Coordinator, Centre d'Appui SocialEnergie, Fédération des Services Sociaux
Jagoda Munic, Director, Friends of the Earth Europe
Ludwig Essig, Coordinator, Netzwerk Gerechter Welthandel
Tine Laufer, Managing Director, PowerShift e.V.
Leah Sullivan, Coordinator, Seattle to Brussels Network/European Trade Justice Coalition
Audrey Gaughran, Executive Director, Centre for Research on Multinational Corporations (SOMO)
Fiona Dove, Director, Transnational Institute (TNI)
William Todts, Executive Director, Transport & Environment
Ana Moreno, coordinator, TROCA – Plataforma por um Comércio Internacional Justo
Brian Cuthbert, Campaigns Director, Uplift
Mathilde Dupré, Co-Director, Veblen Institute
Francisco Ferreira, President, ZERO – Association for the Earth Sustainability
Maxime Combes, economist Aitec, co-facilitator of the French platform against FTAs & BITs
---