Chicken Kiev baron beats Brussels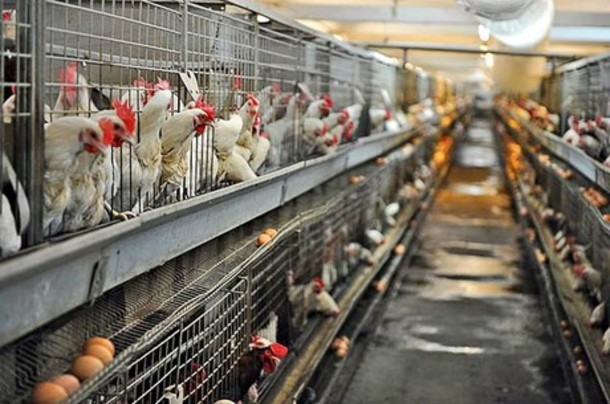 Politico | 13 June 2018
Chicken Kiev baron beats Brussels
By Emmet Livingstone
EU farmers are furious that Ukraine's top poultry oligarch is evading tariffs and ramping up chicken exports by using an ingenious interpretation of Brussels' trade deal with Kiev.
Brussels uses high tariffs and restricted import quotas to shield EU farmers from too much competition from imported chicken breasts — one of the most valuable poultry cuts. But MHP, a company controlled by billionaire oligarch Yuriy Kosyuk that accounts for half of Ukraine's chicken production, has seen a way to beat the EU's defenses.
Under the EU's 2016 trade deal with Ukraine, Kiev won the right to export an obscure, bony cut of chicken tariff-free to the bloc: breast with a piece of wing bone attached. European farmers complain that the Ukrainians are exploiting this loophole to skirt tariffs. This bony cut is sent to EU plants, but the bone is then sliced out and sold as prize chicken breast.
To Brussels, the trade accord with Ukraine was a core strategic priority and was intended to help set Kiev on a more westward political trajectory out of Moscow's strategic orbit. EU officials admit they did not see that it would gift an opening to Kosyuk, who is operating completely within the letter of the deal, if not perhaps its spirit.
Imports of Ukrainian chicken breast with wing bone grew from zero in 2015 to about 3,500 metric tons in 2016, and then to 27,000 metric tons last year, according to European Commission trade data.
This dramatic increase has EU farmers fuming that the trend will spell ruin.
"It was not meant like this: Poultry meat is sensitive," said Peter Vesseur, general secretary of the Dutch Poultry Processing Association, adding that he did not understand why the Commission had allowed this.
Brussels wasn't expecting exporters to find loopholes. A Commission spokesman said that EU trade negotiators had "considered carefully all tariff lines" and consulted industry. However, he added that the EU had in fact never received imports under the tariff line that Ukrainian producers are currently using.
"This practice is considered by the Commission to contravene the spirit of the [agreement]," the spokesman said, adding that Brussels has raised the issue with Kiev.
Several European poultry industry officials said that while the situation is critical, solving the problem through the trade deal is politically sensitive since Brussels inked the pact only shortly after a pro-EU revolution in Ukraine and a subsequent Russian invasion.
Under the deal, Ukraine can export 20,000 metric tons of poultry meat, which includes chicken breast, and a further 20,000 metric tons of chicken carcasses, for which there is less demand. Still, Kosyuk has previously complained that this access is pitiful relative to Ukraine's annual production of 1.2 million metric tons of chicken. In 2016, he warned that Europe cannot "hide behind a fence" and vowed to increase exports by hook or by crook.
Concerns regarding MHP among European farmers aren't helped by its awesome scale. The company has 370,000 hectares of Ukraine's rich black soil under cultivation and it uses the crops to make chicken feed. One of its broiler farms is also Europe's largest, grouping some 18 million chickens together at any one time and producing nearly 1,000 tons of meat per day.
For the time being, the company is sending its bony breast meat primarily to plants in the Netherlands and Slovakia, with a smaller amount going to Poland. However, the worry is that this represents just the opening gambit in a wider bid for market dominance.
"We have [a] huge increase in imports from Ukraine," said Łukasz Dominiak, director general of Poland's National Poultry Council. "We treat it as the main danger for our internal EU market."
MHP is adamant that it is trading in good faith and denied that it is maneuvering to unseat European producers. John Rich, an MHP board member, told POLITICO that accusations that the company is flooding the market is "colorful invective" and a "gross misrepresentation of the facts."
"Ukraine exports are currently around 70,000-80,000 [metric tons], or approximately 7-8 percent of total imports to the EU. As an offset, EU exports around 165,000 [metric tons] of poultry duty-free to Ukraine, or 14 percent of the total Ukraine market," he told POLITICO.
Rich added that Ukraine is responding to shortfalls from other exporters, and in particular to the world's top exporter Brazil, which has seen its exports crimped by food-safety scandals and truckers' strikes. "Ukraine diverted production away from other markets to supply the EU which has a looming poultry supply restriction to face," Rich said. He added said the company's model is to invest in Europe for the benefit of local producers," not destroy EU local markets with imports."
For Dominiak's part, he said that he isn't against free trade but said it is unfair that Europeans cannot tell whether their chicken is from Ukraine since EU plants process the meat and obscure the origin. He said he hopes the Commission would let farmers use origin labeling to help them counter the quota "tricks."
Vesseur from the Dutch Poultry Processing Association is more downbeat. "In the future it will be very harmful, when Brazil is coming back again," he said.
---