China envoy reaffirms importance of Canada-China free-trade talks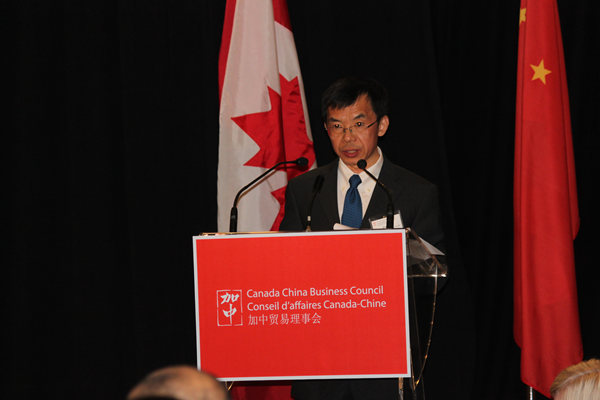 The Globe and Mail | 27 April 2017
China envoy reaffirms importance of Canada-China free-trade talks
by Sean Gordon
China's envoy to Ottawa says bilateral negotiations between Canada and the Asian power are taking on a new importance amid tough talk from the United States on North American free trade.
Speaking before an audience of several dozen business leaders in Montreal, Chinese Ambassador Lu Shaye didn't directly mention the United States.
But the inference was clear when he said "a more complicated global picture" means talks aimed at reaching a Canada-China free-trade agreement have recently gained "greater significance to both sides."
A second round of discussions between the countries' trade delegations concluded in Ottawa on Thursday and Mr. Lu said "we hope to speed up the process and sign the agreement" as soon as possible.
Since taking office in late 2015, Prime Minister Justin Trudeau's government has pivoted toward China, the world's second-largest economy, and is likely to continue doing so in the face of increasingly muscular protectionist rhetoric from the Trump administration in the United States.
Earlier this week, Finance Minister Bill Morneau and International Trade Minister François-Philippe Champagne were in Beijing for cabinet-level discussions with their Chinese counterparts.
Asia experts see a willingness on both sides to pursue a free-trade pact – on China's part, it stems from an aggressive trade policy, Canada's strategic importance as a stepping-off point for the U.S. and Latin American markets, and an overall desire to become a global trading leader.
"I think there is a perception on their part of a golden opportunity because the U.S. is in protectionist mode and there is uncertainty far beyond Canada as to what role the Americans are going to play in the trade arena," said Eva Busza, vice-president of research and programs at the Asia-Pacific Foundation of Canada.
Thursday's luncheon speech by Mr. Lu was sponsored by the Canada-China Business Council, an industry and publicly funded non-profit, and was attended by, among others, former federal Liberal justice minister Martin Cauchon and his one-time cabinet colleague, Montreal Mayor Denis Coderre.
"We don't believe in building walls, we believe in building bridges," Mr. Coderre said in his remarks introducing Mr. Lu.
"We want more business, we want more cohesion, we want to make sure we open through free trade, that's the essence," he added, rhyming off a litany of municipal initiatives aimed at forging closer ties between the countries.
Mr. Lu, who addressed the audience in impeccable Parisian-inflected French, didn't speak to the specifics of this week's disputes between Canada and the United States over softwood lumber and dairy products.
But he talked at length about his main priority, broadening the trade relationship and in particular increasing the scope of exchanges in more technologically sophisticated sectors. Brushing aside a frequent criticism of more aggressive Chinese trade involvement, he said "it is a superfluous idea to link it to national security."
---