China-Norway free trade agreement negotiations in good progress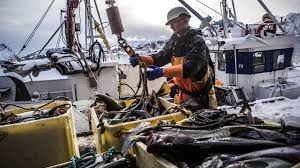 Scand Asia - 04 December 2019
China-Norway free trade agreement negotiations in good progress
by Zazithorn Ruengchinda
"Good progress" is being made on a long-awaited free trade agreement (FTA) between China and Norway, a senior Norwegian official said in Beijing on 29th November 2019, urging further dialogue and an open attitude toward trade to fend off lingering concerns over protectionism.
China and Norway reached an agreement on the launch of an FTA feasibility study in 2007. The two countries held the first round of negotiations on the FTA in Oslo in September 2008 and the 16th round of FTA talks was held in Wuhan, Central China's Hubei Province this September.
"There's been very good progress in the FTA negotiations," Norwegian Minister of Fisheries and Seafood, H.E. Harald Nesvik said at a media briefing at the Norwegian Embassy in Beijing.
There is going to be a new meeting in Beijing in the coming weeks, according to Mr. Nesvik.
"Trade wars between big nations will influence all of us," he said. "It's better that nations trade with each other than build walls against their borders, so these FTA negotiations that Norway has with several countries are very important."
Mr. Nesvik didn't reveal details of the FTA talks or when the decade-long negotiations would eventually come to fruition.
"It's very hard to say when you're going to finish these kinds of negotiations, because very often when you think you see the light in the tunnel, it's not the light, it's the train [that is] coming," Mr. Nesvik joked.
---