China trade by the numbers: New Zealand's big buyer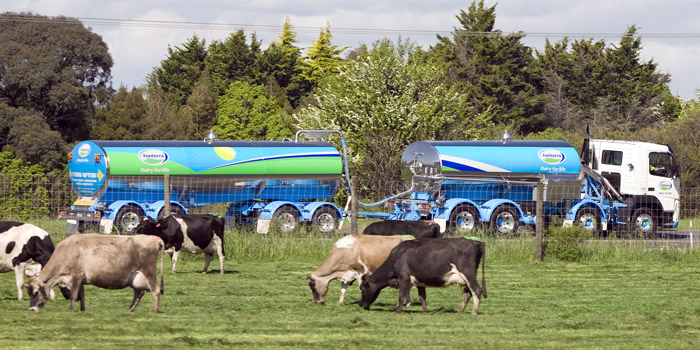 Stuff | 8 March 2019
China trade by the numbers: New Zealand's big buyer
by Bonnie Flaws
ANALYSIS: Last year marked the 10-year anniversary of New Zealand's free trade deal with China, something New Zealand can be quite proud of given Australia didn't get one until 2015.
In that time China has grown to become the largest market for Kiwi goods. We exported $16.6 billion worth in the year ended September 2018, and two-way trade for the same period stood at more than $28b, according to Stats NZ.
New Zealand sold nearly $8.6b worth of goods and services to the United States last year, only half what we sold to China.
So which sectors are doing the most business with China?
EXPORTS
Exports from our primary industries fare the best.
Dairy: Kiwi companies sold $4b worth of dairy products in China. Milk powder, butter and cheese mainly.
The success of dairy companies Fonterra and A2 is largely underpinned by exports to China. Fonterra accounts for 36 per cent of all dairy imports into China, and its Anchor brand has become the top imported consumer choice in just five years.
The dairy co-operative's president of greater China, Christina Zhu said 11 per cent of China's total dairy consumption was produced by Fonterra, and 26 per cent of Fonterra's output was shipped to China.
Forestry: New Zealand exported $2.9b worth of logs and wood.
At a recent China export forum in Hawkes Bay, Pan Pac Forest Products managing director Doug Ducker said the business had been exporting lumber to China for about 15 years and pulp for about 10 years.
"In terms of the importance of China to our business as a whole, its about $150 million to $160m worth of sales revenue to Pan Pac itself. That's probably 30 to 35 per cent of our business in total," he said.
Meat: New Zealand exported $1.9b worth of meat.
China has overtaken the United States as New Zealand's largest red meat export market by volume and value, accounting for about a third of the market.
Increasing demand for sheepmeat from China, particularly mutton, and tight supply from Australia and New Zealand increased competition for New Zealand's sheepmeat, lifting the overall average value of lamb exports.
Tourism: Chinese Tourists spent $1.6b here last year.
China is New Zealand's second biggest tourism market, behind Australia, with more than 400,000 visitors in 2016. Chinese tourists tend to visit during Chinese New Year. The Ministry of Business Innovation and Employment has forecast China will overtake Australia as our largest tourist market by spend, reaching just over $3b annually by 2024.
More than 100,000 Chinese a year still travel on group tours, but they have been overtaken by independent travellers who now make up almost 40 per cent of tourists from China. This year is the China-NZ year of tourism.
Wine: Wine exports totalled nearly $37.4m in the year ended June 2018, up from $31.7m for the year before, according to NZWine. Red wine varieties are the biggest sellers, but overall it is more of a niche market.
Wine is considered medicinal in China, Mission Estate Winery chief executive Peter Holley, another Hawkes Bay exporter, said. The free trade agreement was the catalyst for a "big segue" into China for the winery, which employs a "China guide" to open up business opportunities. Mission Estate made up about 3 per cent of New Zealand's wine exports into China, he said.
IMPORTS
Kiwi's bought $11.5b worth of goods from China last year, twice as much as we did in 2008. That's also double the value imported from Australia and the US.
In October 2018 the largest dollar value increase for monthly Chinese imports hit a new record of $1.5b.
Electronics: Kiwi's bought $2.3b worth of electrical goods and machinery from China last year, mainly items like cellphones and computers.
Machinery: China also supplies New Zealand with electrical and mechanical machinery to the tune of $2b. Things like boilers and farming equipment.
Textiles: New Zealand imported about $1.5b in clothing and other materials last year, supplying major Kiwi retailers like the Warehouse or MacPac.
Plastics: New Zealand imported over $500m worth of the stuff.
Tourism: Kiwis spent $316m visiting China last year.
There are 36 flights a week between New Zealand and China, according to Tourism New Zealand. New Zealand also brought $233m worth of transport services from China.
Investment
In the year to March 2017, China invested $6.8b in New Zealand. In turn New Zealand invested around $2.5b in China for the year to June 2017.
China's biggest investments are in infrastructure and our primary industries, followed by commercial property.
Contrary to public perception, Australia, Britain and the US all invest more than China. Australia invested $115.4b, Britain $73.6b and the United States about $37.4b.
---