China wants no 'progressive' elements in any free trade deal with Canada: envoy
All the versions of this article: [English] [français]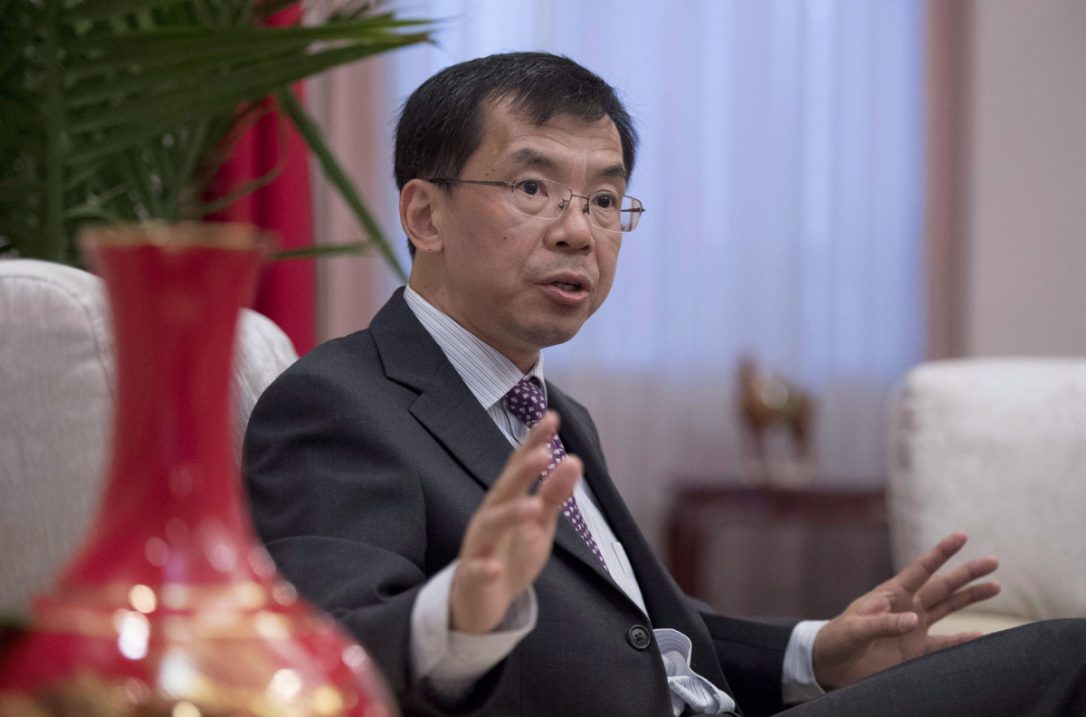 National Post | 10 April 2018
China wants no 'progressive' elements in any free trade deal with Canada: envoy
by Mike Blanchfield and Andy Blatchford, The Canadian Press
China's ambassador has firmly rejected a key pillar of the Trudeau government's trade agenda, branding its attempts to entrench labour standards in a free trade pact as a non-starter for his country.
Ambassador Lu Shaye said Tuesday that Canada's "so-called" progressive trade agenda has no place in the free trade agreement the two countries have been pursuing in fits and starts for several years.
Prime Minister Justin Trudeau has been unable to persuade China's leaders to formally entrench labour, gender, environment and governance issues in the negotiating framework of the free trade talks.
Trudeau spent four days in China in December but left without a formal commitment to moving the free trade talks past the exploratory phase into formal negotiations.
Without elaborating, Lu said the two countries have reached "consensus on extensive issues, but (there) still remain some differences on the so-called progressive trade factors."
"For the Chinese side, we have stressed many times … we really want so-called, non-trade-related factors or issues to not be included in the negotiation of an FTA," Lu said through an interpreter to a small gathering of journalists at the Chinese embassy in Ottawa.
China is taking note of how Canada is pursuing the same agenda in the renegotiation of the North American Free Trade Agreement. But Lu said Canada's insistence on pushing labour standards in the NAFTA talks with Mexico to raise wages would only lead to the shuttering of Mexican auto plants and lost jobs.
"If the Mexico side accepts such kind of standards many of the factories have to close down and their workers have to be laid off," he said.
"So, for the negotiation of the FTA (between Canada and China), it is the national conditions that really matters."
There appears to be little forward momentum towards the start of formal negotiations between Beijing and Ottawa on a free trade pact.
Joseph Pickerill, spokesman for International Trade Minister Francois-Philippe Champagne, said Tuesday there was "nothing to report right now on trade talks," but he noted there's ongoing political engagement. He cited the recent visits to China by Champagne, Finance Minister Bill Morneau and this week's trade mission of Heritage Minister Melanie Joly and representatives from 60 cultural industries.
"This is one of the most complex but also potentially lucrative markets in the world and that requires a smarter, longer-term and more strategic approach to engagement with China," said Pickerill.
"As the minister often says, trade is over decades and this particular relationship, expanding economic engagement will take the time it takes to get it right for Canadians."
Despite the differences, Lu characterized relations between the two countries as warm and said China "definitely" had no deadline for starting formal negotiations. They have already gone through four rounds of exploratory talks.
The envoy said starting a free trade negotiation with Canada would send a strong message to the world as it contends with the Trump administration's "America First" protectionism.
"If Canada and China start a negotiation of an FTA, it will send positive signals to the international community, that is: China and Canada all uphold the flag of supporting the free trade and economic globalization."
Lu also debunked any suggestion that Chinese President Xi Jinping was offering the U.S. concessions on Tuesday in their ongoing trade dispute.
U.S. President Donald Trump said in a tweet that he was thankful for Xi's "kind words on tariffs and automobile barriers … also, his enlightenment on intellectual property and technology transfers. We will make great progress together!"
In a major economic policy speech, Xi said tariffs would be reduced on imported cars and said China would offer added measures towards intellectual property protection.
But Lu said those measures had been previously announced in recent high-profile meetings, including the Communist party's historic congress last fall where Xi laid the groundwork that led to him to recently being granted indefinite power, making him China's most powerful leader in a generation.
"China has reiterated on many occasions that we sincerely hope to resolve the China-U.S. trade frictions through dialogue and negotiation but at the current position now the U.S. takes an aggressive stance on this issue, I think it is not possible for us to have the negotiations," said Lu.
In the face of Trump's protectionism, which has now escalated into the biggest trade dispute since the Second World War, Xi has sought to position China as the defender of the world's rules-based global trading order — a view his envoy to Canada emphasized on Tuesday.
"We can see that China has taken active measures to promote the economic globalization, to advance free trade and to uphold the authority of the multilateral trade regime," Lu said.
"These kinds of actions are fully different from that of the U.S. 'America First' initiatives and its measures."
---