Confirmation of RCEP signature within the year ASEAN + 3 Foreign Ministers' meeting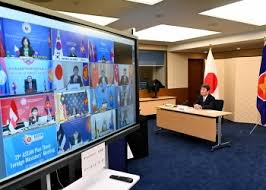 Nikkei - 09 September 2020
Confirmation of RCEP signature within the year ASEAN + 3 Foreign Ministers' meeting
Japan, China, South Korea and the Association of Southeast Asian Nations (ASEAN) held a "ASEAN+3" Foreign Ministers' Meeting on the 9th in a video conference system. Foreign Minister Toshimitsu Mogi participated from Japan. We confirmed that we will continue to cooperate towards the signing of the East Asian Regional Comprehensive Economic Partnership (RCEP) within the year.
We also talked about support for measures against the new coronavirus. Mr. Mogi said that he would contribute $ 1 million to the "ASEAN Response Fund" as a unique contribution of Japan. It was agreed that Prime Minister Shinzo Abe would accelerate the coordination toward the establishment of the "ASEAN Infectious Disease Control Center" advocated in April.
After the ASEAN + 3 Foreign Ministers'Meeting, Japan and ASEAN Foreign Ministers' Meetings were also held. Opinions were exchanged over the East China Sea and South China Sea, where China is strengthening its expansion. The situation in Hong Kong, where China has more control, has also been on the agenda.
Mr. Mogi emphasized the need to strengthen cooperation with ASEAN toward the realization of Japan's "free and open Indo-Pacific" concept.
---