Coronavirus halts PTA bid for months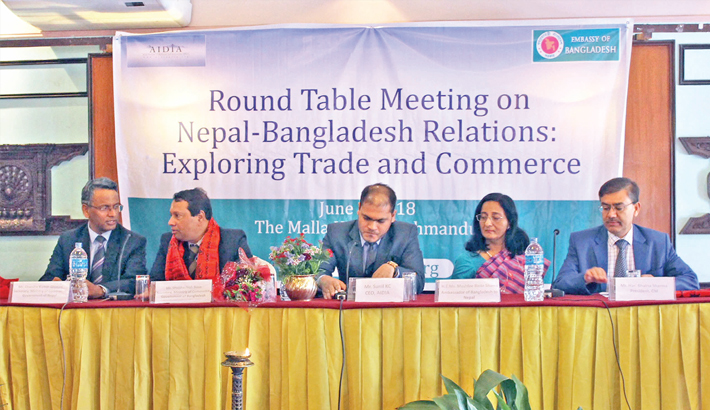 The Financial Express | 2 June 2020
Coronavirus halts PTA bid for months
by SYFUL ISLAM
The signing of preferential trade agreements (PTAs) with three friendly nations has been delayed for months as the economy is battling the global COVID-19 fallout, officials have said.
Trade officials had set a target to conclude PTAs by this month provided that coronavirus-linked issues do not make any major disruption to economic activity.
However, the impacts of the deadly virus on both local and global economy have been colossal in the last four months, simply halting the talks.
The economy of the nations-Nepal, Bhutan and Indonesia-with which Bangladesh is in talks over the signing of PTAs is also coping with the outbreak.
"We doubt the resumption of any talks soon as the procedure is already delayed due to the virus-linked shutdown," a senior official at commerce ministry told the FE.
He said trade officials of those countries now remain busy formulating strategies for economic recovery where such agreement may not be an immediate priority.
"So, the signing of any PTA may get delayed for months until normalcy returns," the official cited.
However, Bangladesh will continue to pursue the resumption of negotiations and quicken the signing process as it is a priority of the government, he said.
Bangladesh opted to sign similar deals, including free trade area (FTA) agreements, with many countries as part of its preparations to face challenges when it loses trade preferences after graduation to a developing country by 2024.
"We may lose many preferences in the developed nations after graduation," commerce secretary Dr Jafar Uddin told the FE earlier.
"By signing trade deals, we're getting prepared so that our export faces no setback in the post-graduation era," he stated.
"Our aim is to raise exports manifold," he said, adding that PTAs will let goods of Bangladesh enter its counterparts' markets duty free or at low tariff.
According to commerce ministry officials, the government high-ups are in favour of signing PTAs and FTAs to boost trade further.
On several occasions, prime minister's office and finance ministry pushed commerce ministry to expedite the process of concluding preferential trade deals.
As her directives were sought recently, Prime Minister Sheikh Hasina asked commerce ministry to sign PTA with Bhutan by granting duty and tax waiver to the products sought by Thimphu.
In the last Dhaka-Kathmandu commerce secretary-level meeting held here in early March, officials said, the two sides agreed to sign the PTA by June.
"The prime minister of Bangladesh has reiterated the need for concluding a PTA with the friendly nation like Nepal," read the minutes of the meeting.
A senior commerce ministry official told the FE that Nepal is a potential destination for Bangladeshi goods and many types of products already go there.
In Indonesia, he said, duty on apparel products is high. "Our target should be lowering the duty through signing a PTA."
The official said Dhaka is in talks with Jakarta on tariff preference on some 300 products. "And signing a PTA will help boost our export there significantly."
Bangladesh is yet to sign any bilateral PTA or FTA, although it is part of several multilateral trade deals.
---