Costa Rica CAFTA referendum on October 7!!!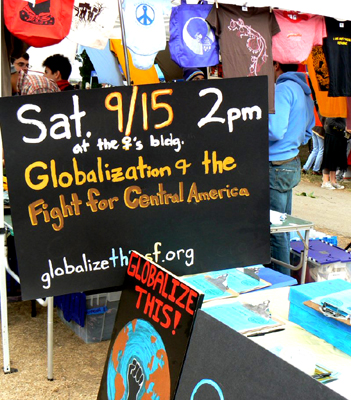 IndyBay Media | Wednesday Sep 19th, 2007
Costa Rica CAFTA Referendum on October 7!!!
by Rubble
Unable to gain public and legislative support for CAFTA amidst broad-based public opposition, the Costa Rican government has set up a referendum vote on CAFTA on October 7. It will be a "yes" or "no" vote similar to U.S. ballot propositions. Hear a 28 minute audio piece, a segment of the video documentary, "Costa Rica, Inc." for an indepth analysis of why opposition is so strong in that country. The video was part of a 9/15/07 solidarity event hosted by Globalize This! held in San Francisco.
audio: caftafabian.mp3 (29.8MB)
Fabian Pacheco Rodriguez, President of the Costa Rican Federation for the Conservation of the Environment (FECON) and son of former Costa Rican President Abel Pacheco, presented at the event, titled "Globalization and the Fight for Central America: Costa Rica Inc. and Beyond". He made the Bay Area trip just for this event in order to gain international solidarity support. FECON is part of the "Green Bloc", the environmental wing of the broad-based coalitions opposing the treaty.
DR-CAFTA was passed as an international treaty in 2005 between the U.S., Dominican Republic, and the five Central American countries. It is, basically, NAFTA for Central America and an important component to the U.S. government's drive for a Free Trade Area of the Americas that will cover the hemisphere. However, it must be implemented as domestic law in each of the countries to be implemented as an international treaty. The other six countries quickly passed it. However, Costa Rica has a much higher standard of living than the other countries and a much more generous public sector than in the U.S., so has much more to lose. Having much more internal democracy than the other countries, they have more sophisticated organization and more resources to put up a strong fight.
The government dropped efforts for a full Congressional vote in the Senate early this year after continued protest actions against the treaty, including a two-day general strike last October. Former Nobel Peace Prize winner Oscar Arias was re-elected President last December — after first serving in the 1980's — as a pro-CAFTA candidate. He defeated an anti-CAFTA candidate and is under heavy pressure by the Bush Administration to get the law passed.
This referendum will be the first time any population has voted on a free trade agreement. The agreements have intensifed poverty in the other countries. Daniel Ortega, newly-elected Nicaraguan President, spoke of repealing CAFTA, but other trade agreements in place would basically prohibit international commerce if they did. Activists in Guatemala and El Salvador, where protests following passage were met with heavy-handed repression, are considering ways to work towards repeal of CAFTA in their countries. The Domincan Republic has yet to implement all the provisions.
---