Cross-Straits trade agreements stall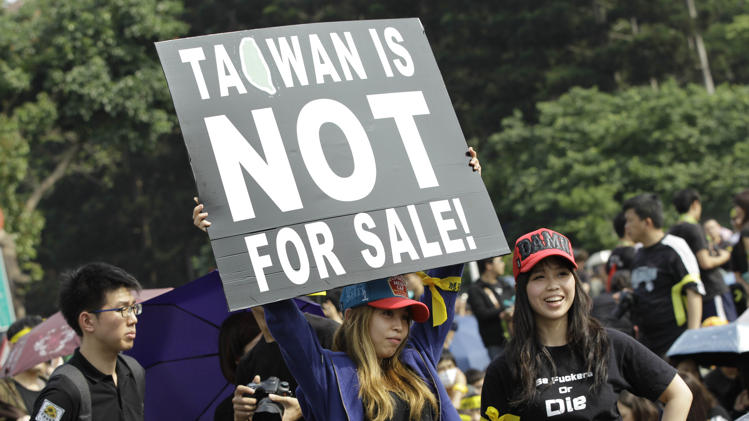 ECNS | 10 June 2014
Cross-Straits trade agreements stall
Media reports demonstrate anxiety in Taipei: expert
Lawmakers in Taiwan Monday confirmed that negotiations on a series of economic measures between the island and the Chinese mainland have halted in the wake of disruptive protests in Taipei in March.
Negotiations with the mainland on aviation, sightseeing, sea transportation and postal services have been suspended. It remains to be seen whether talks will restart later this year, the United Daily News in Taiwan reported Monday.
"It may be hard to see beneficial agreements, such as allowing mainland tourists to visit more cities in Taiwan as individuals, to be reached within the short-term," an anonymous Taiwan transport official was quoted as saying.
Woody Duh, deputy minister of Taiwan's "Ministry of Economic Affairs," confirmed Monday that no further negotiations have been scheduled by the mainland since April over the merchandise trade agreement, which was supposed to be signed at the end of this year, according to the South China Morning Post.
"It is not surprising for the mainland to adopt such a 'wait-and-see attitude' given the delay," Duh said.
The merchandise trade agreement is an outcome of the Economic Framework Cooperation Agreement signed by the two sides in 2010.
Hu Benliang, an associate research fellow with the Institute of Taiwan Studies at the Chinese Academy of Social Sciences, told the Global Times that these reports demonstrate Taiwan's anxiety, as it already lags behind South Korea, which is close to sealing a free trade agreement with China.
Analysts have repeatedly warned that rejection of the service trade pact would jeopardize Taiwan's efforts to join the Trans-Pacific Partnership, a wide-ranging trade deal spearheaded by the US.
Cho Shih-Chao, vice minister of Taiwan's "Ministry of Economic Affairs," said at a meeting with mainland businessmen on Tuesday that two major trade partners with Taiwan have dropped negotiations on a free trade agreement out of concern over cross-Straits relations, reported Taipei-based Want Daily. He did not mention which trade partners.
The reportedly halted negotiations are believed to be the result of the occupation of Taiwan's "Legislative Yuan" in March, which lasted over a week, in protest against a cross-Straits service trade pact. The pact is designed to open up trade in services between the Chinese mainland and Taiwan.
However, protesters claimed it would not only harm local business but also leave Taiwan vulnerable to political pressure from the mainland.
Li He, deputy director of the Beijing-based National Society of Taiwan Studies, told the Global Times that the violent reaction from the Taiwan protesters has also given the mainland pause on its next move to better serve residents in Taiwan.
"The Chinese mainland won't call a halt to cross-Straits negotiations, but will carry on as they will benefit both sides. The reported suspension is a slowdown at best," Li said.
---