Crossbenchers plot to embarrass Labor over Trans-Pacific Partnership
Financial Review, Australia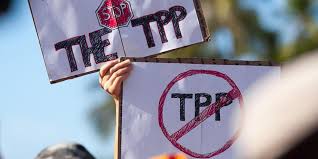 Crossbenchers plot to embarrass Labor over Trans-Pacific Partnership
By Andrew Tillett
12 October 2018
Crossbenchers are ramping up pressure on Labor at the 11th hour to reject the
Trans-Pacific Partnership free trade agreement, drafting amendments that
would force opposition senators to vote against the party's policy.
While the government and Labor look to pass the TPP-enabling legislation next
week with a minimum of publicity, Centre Alliance senator Rex Patrick and the
Greens will instead try to highlight Labor's split between its free marketeers
and its union base.
One set of Centre Alliance amendments will stop the TPP coming into force until Australia
scraps Investor-State Dispute Settlement clauses, which allow foreign companies to sue the government for policy decisions that affect investments, as well as mandate labour market testing before foreign workers can be employed here.
Alternatively a second set of amendments inserts a sunset clause that would repeal the legislation on January 1, 2020, if bilateral side letters stripping out ISDS clauses and allowing labour market testing are not signed by that time.
That amendment would allow the TPP to come into force but give a future Labor government time to negotiate side deals with other TPP members, as Bill Shorten has promised caucus sceptics and union chiefs to try to minimise dissent.
Private bill 'a fraud'
Labor will seek to move a private members' bill in a bid to address concerns over the TPP but is expected, ultimately, to side with the government to allow the enabling legislation to be passed.
Senator Patrick branded the Labor private bill a stunt because it would never have a chance of becoming law.
"They seek to fool their union comrades and their constituents - and perhaps even their own parliamentary members. It's a fraud," he said.
"Centre Alliance's amendments will remove the cancer that is ISDS and will ensure that labour market testing is restored.
"The 'commencement date' amendment ensures Australia will enter into the agreement once the Labor Party's 'National Platform' trade agreement requirements have been met.
"The 'sunset' amendment is entirely consistent with Labor's recent announcement that it will 'fix' the TPP once it is in government, but also acts as an insurance policy in the event they are unsuccessful at the next election."
Greens add to pressure
The Greens will introduce similar amendments that keep the TPP in abeyance until ISDS clauses are outlawed and labour market testing made compulsory. Another amendment will keep the TPP on hold until separate legislation is introduced requiring Parliament's consent to defend an ISDS matter to ensure transparency.
A third amendment would see consideration of the legislation put on hold until the TPP was renegotiated and Australia had a "settled climate and energy policy".
Trade spokeswoman Sarah Hanson-Young said Labor would have to choose between Australian sovereignty or rolling over for the federal government.
"The dodgy TPP deal was designed by corporations, for corporations. It is baffling to Australian workers, and the broader community, that the Labor Party has abandoned its base, and unions, to give this toxic trade deal the green light," she said.
"It would be a gross affront to our sovereignty to allow a piece of legislation that gives corporations the right to sue us for, among other things, strengthening environmental law or developing sound policy to arrest climate change in the wake of the UN's harrowing report."
Blue-collar unions in particular are furious at Labor's support for the TPP, with the Australian Manufacturing Workers Union threatening to cut off party donations while Mr Shorten, trade spokesman Jason Clare and employment spokesman Brendan O'Connor held crisis talks with union officials this week.
Queensland party and union officials this week unanimously called on the opposition to reject the deal.
---