Demonstrations against Andean FTA continue
Radiomundoreal | 25 Oct 2004
Demonstrations against Andean Free Trade Agreement continue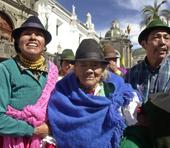 Last Sunday, Ecuadorian indigenous movement ECUARUNARI called a "great march" to protest against the negotiations carried out by Ecuador, Colombia and Peru with United States in order to sign a free Trade Agreement (FTA).
This demonstration will take place next Wednesday October 27th in Guayaquil, where the fifth negotiations round between Andean countries and United States started this Monday.
ECUARUNARI accused Ecuadorian president Lucio Gutierrez and his government of applying policies which actually "gives" the country to the United States.
The indigenous movement also denounced that the FTA has been negotiated "at the back of Ecuadorian people", and that the trade agreement actually supports the Colombia Plan, which is a US military strategy to face that country's drug dealing and guerrilla.
ECUARUNARI continues collecting Ecuadorian people's signatures in order to force Gutierrez's government to carry out a popular consultation, in which Ecuadorians would decide whether it's good or not to sign a FTA with US.
Last October 5th several Ecuadorian social organizations started collecting signatures, looking to reach a million of them, which is the necessary amount of signatures to enable the popular consult mechanism.
The first person who signed was Leonidas Iza, president of the Confederation of Ecuadorian Indigenous Nations (CONAIE). This organization is looking to stop FTA's negotiations, because, among other things, they consider that open trade with US would stop national production.
Colombia, Ecuador and Peru started FTA's negotiations with US in May 2004, looking to reach an agreement by 2005.
---