Documentary on free trade protests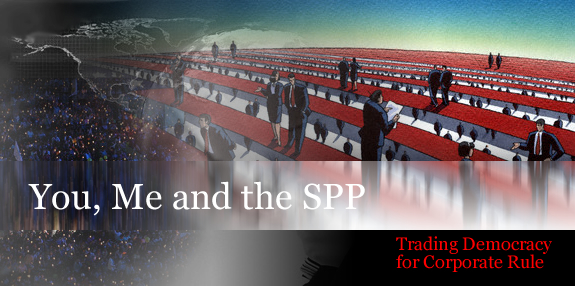 Daily Herald Tribune (Alberta) | 23 October 2009
Documentary on free trade protests screens here Sunday
REMO ZACCAGNA – Herald-Tribune staff
While researching for a film on the Security and Prosperity Partnership (SPP) – a tri-lateral initiative between Mexico, the United States, and Canada – B.C. filmmaker Paul Manly was convinced by people to head to Montebello, Que., for a 2007 summit attended by Prime Minister Stephen Harper, U.S. President George W. Bush, and Mexican President Felipe Calderón.
Unable to secure traditional funding for his trip from his native Nanaimo, B.C., Manly, 45, decided to go the untraditional route.
"I just needed money and I told people for $50 I'd put their names in the credits and I started raising money that way," he said.
He said he's glad he made it.
Once at the August 2007 summit, Manly began filming and interviewing some of the 1,000 protestors that had assembled outside the Château Montebello, where the leaders had assembled.
The protestors were denouncing the SPP, an organization whose stated purpose was to provide greater co-operation on security and economic issues, as being anti-democratic because much of what was discussed between the three nations was done behind closed doors and under a veil of secrecy, Manly said.
During the protest three masked men with rocks in their hands began attempting to "incite violence," but were eventually stopped by fellow protestors.
It was later revealed the three were members of the Sûreté du Québec (SQ), Quebec's provincial police, although the SQ has denied attempting to incite any violence.
The video of the masked police officers became a hit on YouTube and became the basis for Manly's first feature-length documentary, "You, Me and the SPP: Trading Democracy for Corporate Rule."
Currently on a 34-city national tour screening the documentary, Manly will be in Grande Prairie on Sunday for a 3:15 p.m. showing at the downtown Gaiety Theatre.
Admittedly, Manly said he knew very little about the SPP prior to beginning his research in the summer of 2007.
"All I really knew was that there was some meetings going on very quietly. I knew there was a meeting in 2006 that included past members of the American government, and that included people from the Bush administration, and the Canadian government and they were talking about deeper integration, part of NAFTA, and talking about security after Sept.11," he said while in Regina for a screening.
"But really my knowledge was very vague about what they were doing."
Shocking revelation
What he learned while making the filmed shocked him, he said.
"I learned that it's a huge process that's going on, and it's a very large, over-arching agenda. It covers 300 regulatory areas, it affects every ministry in the federal government, it includes deep integration of our military and security infrastructure, and it's a process that's driven by the largest corporations in North America," he said.
"I found that to be problematic."
The film features interviews with those in disagreement with the SPP but Manly said he was unable to speak with any proponents.
"I was actually hoping that I would get some response from the government, and from other people who were a part of this process, the proponents of the SPP. But none of them were interested in talking to me, so I couldn't get interviews from the Conservative government and I tried for quite a while. I tried for 18 months to do that but I wasn't able to."
SPP no longer active
On Aug. 12 it was announced that the SPP was no longer an active initiative, but Manly says that is a moot point.
"But a lot of the SPP agenda has already been implemented. The SPP is dead in name only," he said.
Manly said he's hoping people who see the film will demand an open, transparent process that involves them, if indeed the future demands for closer ties and integration between Mexico, the U.S., and Canada.
"One of those things that President Barack Obama did say was that he wants more than just corporations at the table with the government to determine how harmonization and deeper integration is going to go," he said.
"The challenge for civil society is to discuss the kind of image we want, how we want this process to continue and how to get civil society at the table so it's not just a corporate process, and it's not done behind closed doors, that there's a public debate about it."
For information and tour schedule visit: www.youmespp.com
---