EAEU-China trade and economic cooperation agreement takes effect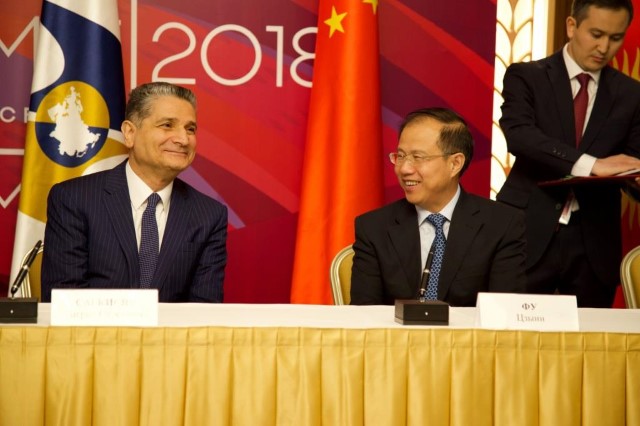 Kazinform | 26 October 2019
EAEU-China trade and economic coop agrt takes effect
MOSCOW. KAZINFORM The agreement on trade and economic cooperation between the Eurasian Economic Union (EAEU) and China came into force on 25 October, BelTA learned from the press service of the Eurasian Economic Commission (EEC).
«All the parties to the agreement have completed the necessary ratification procedures,» the EEC noted. The document was signed on 17 May 2018. «This is an important stage that harmonizes all trade and economic relations between the EAEU member states and China,» EEC Member of the Board (Minister) for Trade Veronika Nikishina.
«The agreement sets a solid legal framework for our trade and economic cooperation across a wide range of matters, such as customs matters, sanitary and phytosanitary measures, trade protection measures, and matters regarding e-commerce and intellectual property,» she added.
The agreement is not preferential and does not provide for lower duties. It is designed to increase transparency of regulation systems, simplify trade procedures, and bolster economic ties.
«The agreement managed to achieve a much higher level of transparency of systems of sanitary and phytosanitary measures and technical regulation between China and the EAEU as opposed to the previous ones. Essentially, the countries have become more open and predictable for each other in these areas. In terms of customs procedures, the parties agreed to handle goods without unreasonable delays and ensure faster customs clearance of perishable goods. The agreement also stipulates firm guarantees for exporters of the EAEU states in terms of respecting and protecting intellectual property rights,» Veronika Nikishina said.
Moreover, the agreement establishes legal guarantees of compliance with the WTO key principles in relations between Belarus, which is in the process of joining the WTO, and China.
For the first time in the EAEU practice, the agreement has incorporated several new provisions designed to develop sectoral cooperation with China across all key economic sectors.
---