EAEU, MERCOSUR sign memorandum of understanding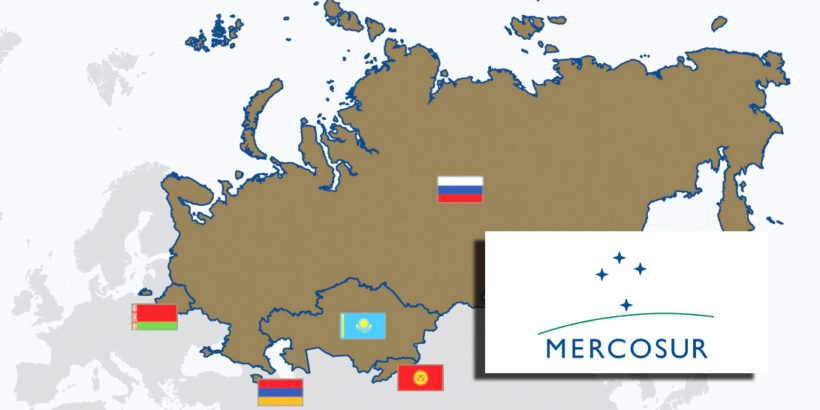 Urdu Point | 18 December 2018
EAEU, MERCOSUR sign memorandum of understanding
by Umer Jamshaid
MEXICO CITY (UrduPoint News / Sputnik - 18th December, 2018) The Eurasian Economic Union (EAEU) and the Southern Common Market (MERCOSUR) signed on Monday a memorandum of understanding in the capital of Uruguay, Montevideo.
"We signed a memorandum of understanding with the EAEU - a market with more than 180 million people, which includes Armenia, Belarus, Kazakhstan, Kyrgyzstan and Russia," MERCOSUR said on Twitter.
According to the statement, MERCOSUR and the EAEU account for a total of more than 6.5 percent of global GDP.
"The economies of the countries have a high complementarity index, and the markets are attractive for both parties," MERCOSUR said.
Based on the signed document, MERCOSUR expects to identify topical areas of cooperation and dialogue in order to begin work on expanding economic and trade relations with the EAEU, it said.
MERCOSUR is a common market of South American countries accounting for 250 million people and more than 75 percent of the continent's total GDP. MERCOSUR's full members are Argentina, Brazil, Paraguay and Uruguay, while Venezuela is currently suspended.
The EAEU is an international integrated economic association established on the basis of the Customs Union and the Common Economic Space. It operates from January 1, 2015. Its members are Russia, Armenia, Belarus, Kazakhstan and Kyrgyzstan.
---