Economic ties with China still thorny / Intellectual property, steel remain problematic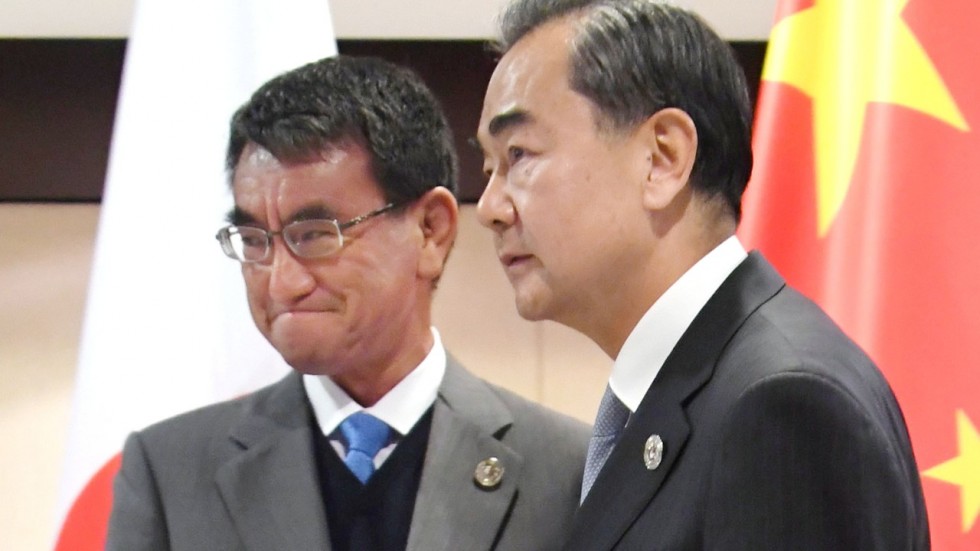 The Japan Times | 18 April 2018
Economic ties with China still thorny / Intellectual property, steel remain problematic
The Japan-China high-level economic dialogue on Monday — the first such meeting in about eight years — marked a first step toward resetting a bilateral relationship that has been under strain amid such issues as perceptions of history and deepening economic ties.
However, challenges remain as there was a gap between the two governments at the meeting regarding issues on which Beijing disagrees with many countries, including protection of intellectual property rights and overproduction of steel.
United front
Chinese State Councillor and Foreign Minister Wang Yi, who cochaired the meeting along with Foreign Minister Taro Kono, stressed the need for free trade, by saying both China and Japan should build an open global economy together.
At the meeting, the two governments agreed on a stance of confronting protectionist moves.
On the trade policy front, the administration of U.S. President Donald Trump invoked in March measures to restrict imports of such goods as steel and came out with its plan to impose punitive tariffs on imports from China, citing the infringement of intellectual property rights.
Facing trade friction with the United States, China apparently aimed to use the latest economic dialogue to present a united front with Japan and thereby send a warning to Washington.
'One Belt, One Road'
Tokyo and Beijing also confirmed their readiness to cooperate in other fields including health care, tourism and energy-saving efforts. "As a whole, the discussion was forward-looking," a source close to the Japanese government said.
Another aim on China's part at the meeting was to secure cooperation from Japan over its "One Belt, One Road" mega economic zone project to make connections across Eurasia.
The Beijing-led project has given rise to deep concern and dissatisfaction that excessive loans provided to participating countries that do not have the capacity to repay them — loans mainly intended to build infrastructure — have led to a sharp increase in their fiscal burdens, and the mega project has not contributed to job creation in these countries due to the influx of Chinese companies and workers.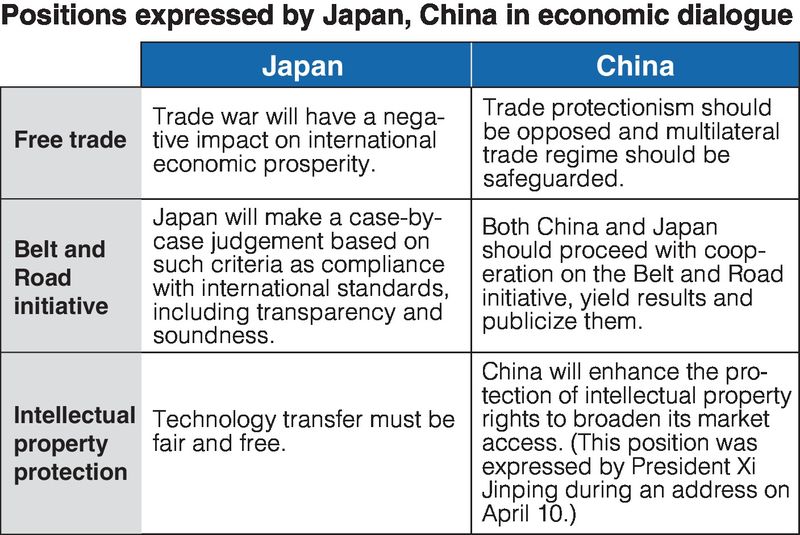 The Yomiuri Shimbun
China's real intention to emphasize the transparency of the Belt and Road initiative by joining hands with Japan can be seen.
At the meeting, Tokyo and Beijing confirmed a policy of mutually supporting joint projects between Japanese and Chinese firms.
Japan's stance is, however, that "Japan-China cooperation is not identical to the Belt and Road initiative," according to a senior official of the Economy, Trade and Industry Ministry.
Tokyo's concerns unanswered
Prime Minister Shinzo Abe has adopted a "free and open Indo-Pacific strategy," and Tokyo is highly concerned about an expansion of China's influence in the Indo-Pacific region.
On Monday, Kono fired a warning shot against the Belt and Road initiative.
"We will consider cooperating [only] on projects in line with international standards such as care for the environment and the fiscal health of the countries that receive loans," he told reporters.
During the meeting, the Japanese side conveyed its concerns regarding issues over which China has disputes with other countries.
On the issue of Beijing's de facto imposition on foreign companies of technology transfer, Washington has decided to take the case to the World Trade Organization and impose sanctions against Beijing. Tokyo is poised to act in concert with Washington, with a view to jointly filing the case with the WTO. Japan called for a "fair and free" transfer of technology during the latest dialogue with China.
Regarding excessive steel production, the United States has called on China to rectify the situation, pointing to it as one of the factors behind its decision to impose import restrictions on such products as steel.
Nevertheless, in its statement on Monday, the Chinese Foreign Ministry did not include a single word referring to these issues. These outstanding bilateral issues have been thus pushed back to future rounds of the dialogue
---