EU agreement on hold pending Honduras crisis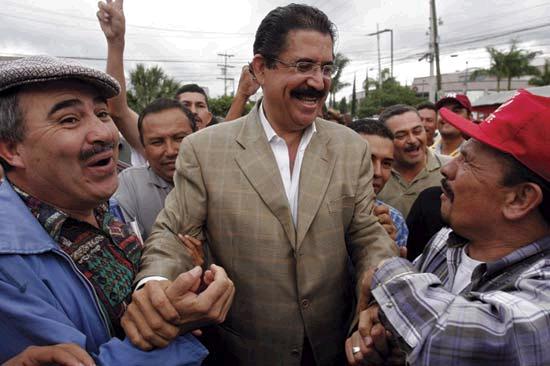 Tico Times | 28 October 2009
EU agreement on hold pending Honduras crisis
By Chrissie Long
Tico Times Staff
The Honduran crisis is delaying trade agreement negotiations between Central America and the European Union (EU), as diplomats wait to see how the political situation there plays out.
Honduras' participation in brokering an EU-Central American Association Agreement has faltered since the June 28 coup that sent its president, Manuel Zelaya, into exile. After sneaking back into Honduras last month, Zelaya and the provisional government have had another pressing agreement to negotiate – one that would end the crisis, including possible presidential elections in November (see separate story).
EU representatives, who visited Costa Rica this week, said they are close to reaching a trade and cooperation agreement with the region, but they will wait until after November before seeking to seal the pact.
"We have to see what will happen in November … and if (Honduras) can get out of this situation," said Emine Bozkurt, president of the EU delegation that arrived Sunday and has spent the week in meetings with legislators, President Oscar Arias and Foreign Ministry officials. "We were really close in June (before the coup)."
While some members of the delegation expressed reluctance at pinning the fate of a three-year regional negotiation process on developments in a single country, most agreed that a month-long delay isn't unreasonable.
Officials in Europe told the Costa Rican diplomats that the EU's priority is to arrive at a solution in Honduras, which could then open the way for continued negotiations.
"Political interests shouldn't get away with coup d'etats," Bozkurt said, echoing her colleagues this week. "It's important that we find a solution for Honduras."
Formal talks for a trade agreement began in October of 2007 and were expected to conclude this year. But internal disputes in Central America have pushed diplomats into additional rounds of negotiations.
The delegation will continue its tour with a visit to Panama next.
---