EU and Singapore successfully on Trade and Investment Protection Agreements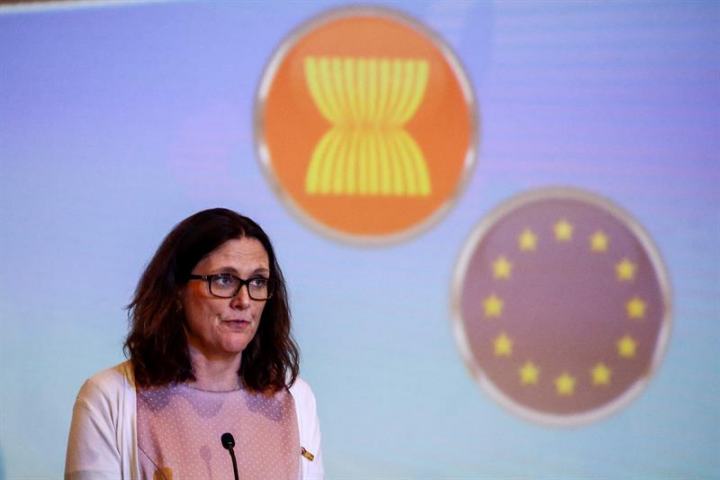 New Europe | 19 April 2018
EU and Singapore successfully on Trade and Investment Protection Agreements
By Irene Kostaki
The European Commission has given the green light to clear an EU-Singapore trade and investment agreements that aim to take bilateral relations to a new level and comes on the heels of the recently signed EU-Japan Economic Partnership Agreement,
The speed by which Brussels moved to wrap-up both agreements is being seen as an effort to send a strong message to US President Donald J. Trump about the EU's approach to fair and rules-based international trade.
The EU-Singapore pacts are the first bilateral trade and investment agreements concluded between the EU and a Member State of the Association of Southeast Asian Nations (ASEAN) and will serve as a reference point for other trade and investment agreements, including negotiations between the EU and Malaysia that were launched in 2010, as well as similar ongoing talks between the EU, Vietnam, Thailand, the Philippines, and Indonesia that began in 2012.
The EU-Singapore deal is the most significant as the wealthy city-state is by far the EU's largest ASEAN partner, with total bilateral trade in goods at €53.3 billion in 2017 and services at €44.4 billion in 2016.
Unlike past agreements, the EU-Singapore trade agreement is one of the first 'new generation' bilateral agreements that not only remove customs duties and non-tariff barriers for trade in goods and services but also includes important provisions on intellectual property protection, investment liberalisation, public procurement, competition, and sustainable development.
According to the European Commission, the day the trade agreement enters into force, over 80% of all imports from Singapore will enter the EU duty-free. European tariffs will be removed within three or five years for the remaining 20%, depending on the product category.
Electronics, pharmaceuticals, petrochemicals, and processed agricultural products will be prioritised, as the deal removes technical and non-tariff barriers to trade in these specific goods.
The EU and Singapore have also agreed to base their technical and safety regulations on international standards. Both sides also agreed to promote international safety and manufacturing standards for cars and car parts, outside of the electronics industry.
Both Brussels and Singapore will conform to international standards and guidelines for pharmaceutical products and medical devices, particularly those developed by global standard-baring bodies.
Enhanced customs cooperation will simplify and modernise trade procedures and cut transaction costs for businesses. Singapore will make it easier for EU companies working in the fields of telecommunications, environmental services, engineering, computing, and maritime transport to operate in the country, a move that was reciprocated by the EU, which ruled that European commercial banks will, under specific conditions, be able to increase their number of customer services locations.
Singapore has agreed to strengthen its existing geographical indications (GI) regime by setting up a system to register GIs in Singapore. Around 190 GIs for wines, spirits, and certain agricultural products including Bordeaux wines, Parma ham, Champagne, and Bayerisches Bier will be treated as being within the EU Member States.
The agreements will first have to be approved by the European Council and sent to the European Parliament before possibly coming into force before the mandate of the Juncker Commission ends in May 2019.
---