EU, ASEAN ministers call for greater efforts to advance trade talks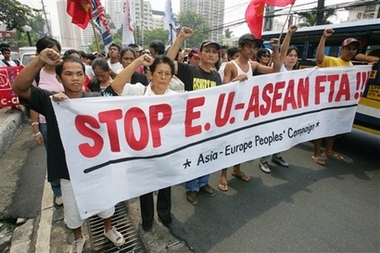 International Centre for Trade and Sustainable Development | 8 March 2018
EU, ASEAN ministers call for greater efforts to advance trade talks
Officials from the EU and the Association of South East Asian Nations (ASEAN) pledged on Friday 2 March to speed up their efforts to negotiate free trade agreements, both at the bilateral level and eventually at the region-to-region level, following a meeting in Singapore.
Singapore's Minister for Trade and Industry Lim Hng Kiang Lim, who holds ASEAN's chair in 2018, welcomed the discussions, saying that "the time is right" for both blocs to pursue broader and deeper economic integration.
"I look forward to constructive engagement over the course of our consultations today on ways that can help us deepen our region-to-region economic integration," the Singaporean official said.
Lim added that he looks forward "to help pave the way towards the eventual resumption of negotiations for an ASEAN-EU FTA," referring to a process that kicked off in 2007 and has been on hold for the past nine years.
A joint media statement from both sides says that ministers are asking senior officials to continue work at setting up a "framework" which would set the stage for doing so.
EU Trade Commissioner Cecilia Malmström, who co-chaired the Singapore consultations together with Lim, described the ASEAN coalition as a "natural partner" and a key economic pillar in the region.
"It is no news that as a mood of protectionism takes hold in some places, the EU looks to its friends in Asia more and more," she said in a keynote speech at the ASEAN Business Conference, which occurred in parallel.
Bilateral talks
As noted previously, the EU and ASEAN have explored the option of negotiating a sweeping trade accord between the two respective regions in the past.
While that approach has since shifted towards the negotiation of deals between the EU and individual ASEAN members, officials indicated last year on multiple occasions that they hope to resume the region-to-region negotiations. (See Bridges Weekly, 16 March 2017 and 5 October 2017)
How these bilateral deals will eventually translate into a region-to-region accord is not yet clear. ASEAN has enacted FTAs as a bloc with other countries and is in the process of negotiating collectively a trade deal with its six FTA partners, which would be known as the Regional Comprehensive Economic Partnership (RCEP).
In 2014, the EU struck a comprehensive trade deal with Singapore, the bloc's largest economic partner in ASEAN. While the ratification process was put on hold until legal rulings could clarify which areas of the deal fell under the EU's exclusive or shared competences, Malmström says that she now hopes it will be formally approved soon. (See Bridges Weekly, 18 May 2017)
"In mid-April, the European Commission hopes to submit it for final approval, and after that it will be in the hands of our Parliament," she said.
"We hope that it can enter into force by the end of the year," Malmström told business leaders on Friday.
In her speech in Singapore, the EU trade chief also mentioned deals with Vietnam and Indonesia. Published in 2016, the text of the EU-Vietnam accord is currently undergoing legal review. "We have a deal with Vietnam we want to submit too," Malmström said. (See Bridges Weekly, 4 February 2016)
Negotiations between EU and Indonesia kicked off that same year. The two sides have held four rounds of talks to date, with the latest taking place in Surakarta this February. During that meeting, the teams reviewed the agreement's content in full, and reportedly made headway on sanitary and phytosanitary (SPS) measures, as well as technical barriers to trade (TBT), investment, and services, according to an EU summary issued after the meeting.
The EU recently issued a plan on how to better address sustainable development within its trade deals, including on labour rights. It referred to the trade talks with Indonesia as an example of where the EU is seeking a wider inclusion of "themes," such as working conditions and "responsible" supply chain governance. (See Bridges Weekly, 1 March 2018)
"These agreements are important in their own right, but they are also part of a bigger picture. We see them as building blocks on the way to broader integration," Malmström said. The EU is also negotiating agreements with Malaysia, the Philippines, and Thailand. The remaining ASEAN members are Brunei, Cambodia, Laos, and Myanmar.
Indonesia, Malaysia highlight palm oil
Amid these efforts, some public disagreements remain, including over how to treat the sensitive situation involving palm oil. Indonesian Trade Minister Enggartiasto Lukita said recently that he hopes that an EU-ASEAN FTA can both increase opportunities for small and medium-sized enterprises (SMEs) and address the public debate over the merits and risks of palm oil as fuel.
"The FTA between ASEAN and EU must contain programs that can boost SMEs. Points in the agreement must also help counter the negative campaign against palm oil," he said, according to comments reported by Indonesian media.
Those sentiments were echoed by Malaysia's Plantation Industries and Commodities Minister Datuk Seri Mah Siew Keong, who told industry officials this week that palm oil should be a priority of the trade agenda, according to news outlet The Edge Markets.
"It is our most important export. In this free trade agreement with EU, this must be resolved first. There will be no conclusion on EU trade talks, without a resolution on palm oil," he added.
Earlier this year, lawmakers in the European Parliament drafted rules to end the use of palm oil in motor fuels from 2021. The Malaysian government has warned that the move, should it become law, would restrict trade unfairly and hurt countries which export the fuel.
Indonesia and Malaysia are the world's largest exporters of palm oil, with data published by the Massachusetts Institute of Technology (MIT) suggesting that they account for 88 percent of global exports. Palm oil is Indonesia's top export, valued at US$14.4 billion in 2016.
The trade picture
According to European Commission data, the EU is ASEAN's second largest trading partner after China, while the 10-country Asian bloc is the EU's third largest external trading partner, surpassed only by the US and China.
The same data suggests that the top exports from EU to ASEAN include chemical products, machinery, and transport equipment, while ASEAN's main exports to the European bloc also include machinery and transport equipment, as well as farm goods, apparel, and textiles.
The joint media statement issued on Friday suggests that ASEAN-EU two-way trade reached €226.8 billion in 2017. The EU also is ASEAN's largest external source of foreign direct investment flows with €26.3 billion in 2016.
---