EU FTA red tape keeps Korean wine market tied up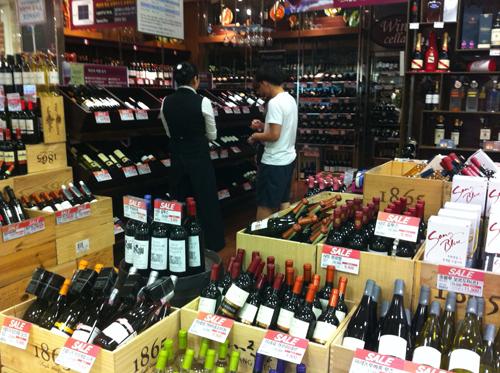 Yonhap | 2011/08/26
EU FTA red tape keeps Korean wine market tied up
By Joshua Hall
Contributing Writer
SEOUL, Aug. 26 (Yonhap) — When the Korea-European Union free trade agreement (FTA) went into effect on July 1, South Korean consumers eagerly awaited more access to lower-cost European wines.
Years before the FTA, in Europe, wine grower associations and media emphasized the importance of the FTA and focused on how the new deal would increase sales.
But nearly two months later, confusion still reigns.
Complicated tax procedures and trade benefits have hampered many importers, with many wineries baffled by the new procedures. And in stores, few discounts have been passed onto consumers.
"It's a big investment to buy a bottle over 50,000 won (US$47). I feel very cheated," said Hwang Eun-jun, a 29-year-old office worker in southern Seoul who buys three bottles of wine a month on average.
Marc Wendel Cho, CEO of southern Seoul-based importer Wine Plaza, feels Hwang's pain.
"We would like to offer cheaper prices now, but it's a real headache to get the paperwork right at the local level," he said. It's frustrating that it will take time to educate wineries about the new import procedures, he added.
The process is complicated.
Choi Young-hoon, deputy director of FTA implementation at the Korea Customs Service, said that detailed import regulations are a requirement of the EU FTA Protocol of Origin and that verifying the origin of products is necessary for preferential tariff treatment.
That means in order to get the 15 percent import tax on European wines lifted as promised in the FTA, producers in the EU need to apply to their local customs office for EU-approved exporter status. This process requires between two weeks to two months and involve consultation between Korean customs and local authorities.
After receiving this status, producers are required to attach denotation of such along with an EU country code to all documentation and shipments of wine.
"French producers are well aware of the new regulations," said Shin Sung-ho, director of planning and communications at the Korean wine importer NaraCellar. "Italian and Spanish producers are still confused. We expect it to take a minimum of two months for Italian wineries to get the paperwork completed."
So not only are the 15 percent tax savings not automatic, but other taxes are also still in effect. In addition to the landed cost of wine there are the 30 percent liquor tax, the 10 percent education tax and the 10 percent VAT.
"Many Spanish wine producers thought the FTA would remove all tax like what they did in Hong Kong," said Pancho Campo, a Spanish master of wine and organizer of the Hong Kong wine conference WineFutures.
Campo said many European wineries struggle with international trade. "Wineries need to realize they are businesses and operate like they are in the 21st century," he said.
South Korean customs officials say there is not much they can do to speed up the process.
"It's basically a matter for the wineries and their country's customs authorities. There is no room for us to intervene," one official at the Korea Customs Service said, refusing to give his name.
Many importers are waiting for tax-exempt stock to land in September. Once those wines arrive, they say they will pass on savings to consumers.
"The price of Chilean wines never changed," said Shin of NaraCellar, referring to the South American country's FTA with Korea. "Media and consumers blamed importers for this. This time importers and trade have to prove their intention by delivering price savings."
Most in the industry agree that price savings of 10 percent are likely once new inventory arrives. It's likely that supermarkets will pass on these savings to consumers.
Already, with plenty of hype surrounding the FTA, retailers like the discount chain Homeplus, the South Korean unit of British retail giant Tesco, were keen to generate excitement and began selling pre-FTA stock at discounted prices. Homeplus in particular offered 15 percent off all Tesco-brand European wines in July, taking a loss while riding a wave of consumer interest.
However, independent wine shops have less flexibility.
"Our margins are already very small so we won't be lowering our prices," said Evan Kim, manager of wine shop Wine Square.
It seems unlikely that wine bars and restaurants will pass on savings to customers. As the costs of running a restaurant increase with rising costs of ingredients and rent, they are keen to maintain their margins.
In a study of the Korean wine market, Tim Beal, a researcher from Victoria University of Wellington, New Zealand, noted that as a "bottle of wine moves through the distribution system, the actual cost advantage of the FTA declines."
Beal, in his report for the Korea Institute for International Economic Policy in March, said the FTA will benefit the local wine market in the long term. "FTAs may grow and transform markets, raising them to a new stage — to some extent with the Chile FTA and it is likely that the EU, and the U.S., FTAs will boost this transformation."
Most wine industry players agree that the middle market will benefit most from the FTA.
"Most savings will be in the middle market due to EU wines being led by French wines," Shin of NaraCellar noted.
For Homeplus, the EU FTA means a change of strategy. It plans to increase its European wine portfolio by 20 percent while dropping 20 percent of non-European wines.
Data from the Korea Customs Service showed South Korea imported 1,323 tons of wine in July alone, visibly up from 881 tons the previous month.
The figure beat forecasts by many analysts. "The anticipated FTA with the EU is predicted to 'stir up competition' but exactly what will happen is as yet unclear," Beal wrote in his report.
Daniel Kangas, director of negociant Asia Pacific Wines, said the biggest benefit of the EU FTA is the increased variety of wines coming into Korea.
"You're seeing a lot more Spanish and Italian wines from lesser-known areas," he said. "There's a lot more choice for consumers."
Exactly how the market will develop depends on how importers seize this opportunity.
(Yonhap intern Kim Han-joo contributed to this report)
---