EU, Mercosur agree to resume free trade talks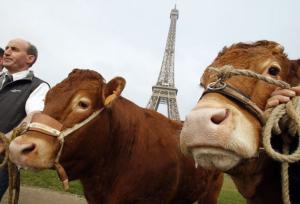 AFP | 18 May 2010
EU, Mercosur agree to resume free trade talks
MADRID — The EU and South America trading bloc Mercosur agreed Monday to resume talks aimed at reaching a free trade agreement which were suspended in 2004, despite opposition from key European nations including France.
"We have decided to restart the talks to reach an agreement that is ambitious and balanced," Spanish Prime Minister Jose Luis Rodriguez Zapatero told a news conference at a summit between the European Union and countries of Latin America and the Caribbean.
The 27-nation EU and Mercosur, which is made up of Argentina, Brazil, Uruguay and Paraguay, began free trade talks in 1999 but they stalled in 2004 due to disagreement over tariffs and subsidies paid to European farmers.
Zapatero, whose country holds the rotating six-month presidency of the EU, said a free trade agreement between the two blocs would lead to an extra five billion euros (6.2 billion dollars) in exports per year between the two blocs.
"Faced with the temptation of protectionism, the best response to the economic crisis is the opening trade. The biggest beneficiaries of an agreement would be Mercosur countries," he said.
A free trade agreement would boost Paraguay's gross domestic product by 10 percent, Uruguay's by 2.1 percent, Brazil's by 1.5 percent, Argentina's by 0.5 percent and the EU's by 0.1 percent, Zapatero said.
European Union President Herman Van Rompuy said the next round of talks will take place "at the beginning of July at the latest."
Last week 10 EU nations led by France issued a statement opposing the resumption of the free trade talks because "the strategic agricultural interests of the European Union are clearly at stake."
The statement was backed by Austria, Cyprus, Finland, Greece, Hungary, Ireland, Luxembourg, Poland, and Romania in addition to France.
Other nations, including Italy, Belgium and Portugal, have also expressed their concern over the resumption of talks, a European diplomat said.
Argentine President Cristina Kirchner said "everyone knows the reason" why these nations oppose the restart of talks is because they "fear" losing their farm subsidies.
"We must tackle the concept of protectionism from all angles. Many think it is tariffs paid in ports. But it is also subsidizing production," she said.
France is the main beneficiary of the EU's Common Agricultural Policy, which pays billions of euros each year in subsidies for food production.
"The concerns of certain specific sectors must be taken into account," European Commission President Jose Manuel Barroso said in Madrid when asked about the fears expressed by European farmers over a potential deal.
A free trade agreement "would create one of the most important trade zones in the world, with 700 million people", he added.
"But we must be clear, we are only starting negotiations. We must be conscious that it will require important efforts from both sides," he said, giving as an example the EU's demand that Mercosur open up its service sector.
A free trade deal between the EU and Mercosur has been a key goal of Spain, which enjoys close ties with its former colonies in Latin America.
The EU is expected to sign bilateral trade deals with Peru, Colombia and Central America at the summit, which wraps up on Wednesday.
---