EU seals free trade deal with West Africa
All the versions of this article: [English] [français]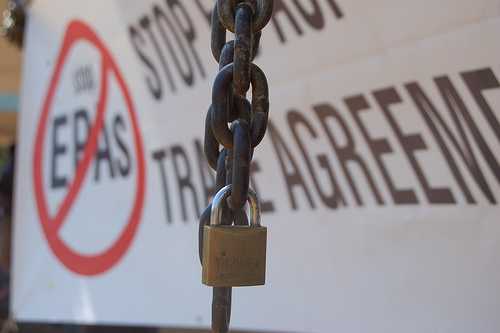 Euractiv 05 February 2014
EU seals free trade deal with West Africa
EXCLUSIVE / Negotiators from West Africa and the EU have put pen to paper on a €42 billion-a-year free trade deal after 10 years of haggling, but ongoing talks with East African states remain mired in fine print.
The deal, which covers trade and development cooperation, will guarantee full long-term duty and quota-free access to the EU market for West African nations. When it enters into force, it will eclipse bilateral interim agreements with Côte d'Ivoire and Ghana.
"We are very satisfied with the progress at expert level achieved during the negotiations in Dakar in January," John Clancy, the EU's trade spokesman told EurActiv. "The results of these negotiations are still subject to political endorsement," he cautioned.
But this is seen as a formality by sources close to the talks. While negotiators publicly stress that they have merely completed their task and "escalated" the deal to a higher level, optimism is in the diplomatic air.
"From the outset, heads of state said they would only be willing to negotiate if there was a strong development dimension [to the free trade deal] and I believe this is a statement of what is currently on the table," Kolawole Sofola, a trade officer for the Economic Community of West African States (Ecowas) told EurActiv from Nigeria.
Chief Ecowas negotiators may now meet on 7 February, with the block's heads of state expected to officially endorse the first regional economic partnership since 2007 at the end of February or in early March.
All the Ecowas countries, apart from Nigeria, are classified as Least Developed Countries (LDCs) and so can already export anything except weapons to Europe, without exposure to costly tariffs or quotas. But this status quo will now be ring-fenced and extended, with a door opening to unfettered market access.
The final stumbling block to the deal was overcome when the EU agreed that the African states could liberalise 75% of trade over 20 years, rather than the 80% over 15 years that Brussels originally wanted. Ecowas states had asked for a 60% figure.
An EU decision to halt all export subsidies to Africa last month was also seen as pivotal to the eventual compromise, as were a number of West African compromises.
'Most Favoured Nation' clause
The Ecowas negotiators accepted a 'Most Favoured Nation' clause in the text, with some exceptions, and agreed that EU development financing under an Economic Partnership Agreement Development Programme (PAPED), would remain at €6.5 billion, €8.5 billion short of their demands.
Observers say that this money may be counted as new or additional, despite having been pledged some time before.
Fears of regional disunity if the deal was not inked were rife, and the final deal was warmly welcomed by the European Center for Development Policy Management (ECDPM) think tank.
"Reaching an agreement is a very good deal for West Africa and a big victory for Europe," said San Bilal, an ECDPM spokesman.
"But if there are no agreements with other regions then Europe will say 'Why is it acceptable to sign a deal with West - but not East or Southern - Africa?' And that will obviously create tensions," he added.
East Africa Community
The East Africa Community (EAC) countries have been more hesitant to ink a trade deal guaranteeing Europe preferential market access in a region that other powers such as China are increasingly focused on.
"If we sign the EPA (Economic Partnership Agreement) and other sub-regions do so too, we would be giving up the better option we had before us, which allows for real industrialization," the Tanzanian president Benjamin Mkapa reportedly said in a 2012 speech.
Mkapa queried whether a deal would help local economies, increase food security, or support regional transition from exporting raw materials to producing sophisticated products.
East Africa's capacity to tax exports – including mined raw materials and associated products – will be tough to crack in any deal. Similar disagreements threaten any free trade agreement with Southern Africa.
"We liberalized without regulation and now we have nothing to plough back," the Ugandan MP and trade committee chairman, Mukitale Birahwa, complained, of a previous free trade deal.
Dutch flowers
The region's economic powerhouse, Kenya, has asked to be allowed to maintain tariff-free access to Europe for its flower exports, even though it has a GDP of €25 billion, and is not considered an LDC.
"If ministers don't find an agreement, the question for Kenya is: do they do a deal with the EU on their own or stay with the region even though a lot of their flower businesses are suffering?" Bilal said.
"That might have negative consequences for the very many Dutch importers of Kenyan flowers," he went on. "There will be tensions among partners."
For all East Africa's economic potential though, West Africa accounts for 40% of trade between Europe and the Africa, Caribbean and Pacific (ACP) regions.
The EU spends more than €42 billion a year on Western African products from the ACP states.
Next steps:
– 7 February: Chief ECOWAS negotiators due to meet
– End of February/Beginning of March: ECOWAS heads of state expected to officially endorse the Economic Partnership Agreement with the EU.
---