EU, Vietnam to start free-trade talks
Wall Street Journal | 3 March 2010
EU, Vietnam to start free-trade talks
By JOHN W. MILLER in Brussels and PATRICK BARTA in Bangkok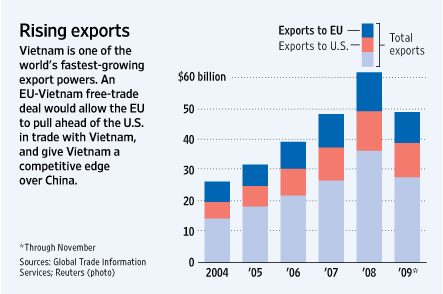 BRUSSELS—The European Union and Vietnam announced the start of free-trade negotiations Tuesday, signaling a major effort to move ahead in the race to secure new markets despite the failure of the Doha Round of global trade talks.
EU officials say they want a privileged trade and investment relationship with Vietnam, a booming country with 86 million people and a $100 billion economy that is open to buying European cars, wine, cheese and pharmaceuticals. For Vietnam, a free-trade deal with the EU would be a chance to lure manufacturers away from China with the promise of a launching pad into the EU's roughly $15 trillion economy, the world's largest.
[EUNAM]
Efforts to reach a deal, however, face fresh obstacles in Europe, where the new Lisbon Treaty gives ratification powers to the European Parliament, which, like the U.S. Congress, is home to protectionist sentiment and human-rights concerns.
The EU-Vietnam talks continue a recent trend of pursuing bilateral accords, which were set aside during most of the past decade as countries focused on an overarching, multilateral trade agreement. Now the Doha Round is on hold—after failing at summit after summit as the U.S. and EU balked at opening up their food markets—, bilateral trade ambitions are again the focus.
The EU has signed a deal with South Korea, and last week it announced the conclusion of an agreement with Peru and Colombia. The U.S. has negotiated trade treaties with South Korea and Colombia, although they haven't been ratified by Congress.
But an EU-Vietnam deal would much larger, say trade experts.
A farmer gathers rice in fields outside Hanoi. Vietnam is one of the biggest rice exporters in the world.
Vietnam's biggest exports are textiles, shoes, seafood and coffee. A free-trade deal with the EU could expand that portfolio. "Vietnam is looking to attract manufacturing that has become too expensive in China," says Fredrik Erixon, a trade analyst with the European Centre for International Politics and Economy, a Brussels-based think tank. A trade treaty would end the antidumping tariffs on Vietnamese shoe exports that the EU imposed in 2006 and extended in 2009.The announcement also comes at a critical juncture for Vietnam, whose economy faces steep challenges despite relatively strong growth over the past year.
The country's General Statistics Office said Tuesday that economic growth is expected to accelerate to between 5.7% and 5.9% in the first quarter from a year earlier, compared to 3.1% growth in the first quarter of 2009.
But much of Vietnam's recent growth has come from costly stimulus programs that have forced the government to borrow heavily abroad. Meanwhile, the global economic crisis has dented foreign direct investment and pushed exports into a slump, swelling Vietnam's trade deficit and forcing the government to devalue its currency.
Many residents and economists are already worried that Vietnam is too reliant on exports, which helped drive growth in recent years, especially after the country joined the World Trade Organization in 2007. Expectations for future export growth in Vietnam are less promising as the U.S. and Europe struggle to recover from the global financial crisis. Entry into a new free-trade bloc could help ease the fears about reliance on foreign markets by reviving exports and helping restore the country's trade balance. The EU had already begun free-trade talks with a group of Asian countries including Cambodia, Indonesia, Singapore, Myanmar and the Philippines. It has now abandoned that idea, "because of the very different levels of economic development in the countries concerned," EU Trade Commissioner Karel De Gucht said before meeting with Vietnamese Prime Minister Nguyen Tan Dung.
"The attraction for the EU is competing with the U.S. in opening new markets, especially for services," says Nikolay Mizulin, a trade lawyer with Hogan & Hartson LLP.
The European Parliament, however, could prove a stumbling block. It has expanded powers under the recently ratified Lisbon Treaty, including the right to block trade deals. It is also home to lobbyists ready to bat on behalf of the few industries where European and Vietnamese companies do compete, such as bicycles, shoes and textiles.
The Parliament could also raise Vietnam's human-rights record. Dissent in the country has intensified lately in part due to strains related to the global economic crisis. The government has launched a new crackdown on activists in recent months, and that has alarmed some of the country's leading trading partners. In January, a Vietnamese court convicted and sentenced four prominent dissidents to lengthy jail terms for participating in banned political parties and otherwise attempting to overthrow the government. A few weeks earlier, a former army officer who pushed for democratic overhauls was convicted of subversion, and the governement has at times blocked access to Web sites such as Facebook and Twitter.
Vietnam put its best face forward in the years leading up to joining the WTO, including appointing an economic reformer, Mr. Dung, as prime minister and encouraging local media to expose corruption and fraud.
But it remains a Communist state, and leaders have grown more wary of reforms over the past year amid an increase in labor strikes and other forms of dissent. Political analysts say that jockeying within the ruling Communist Party ahead of its next congress in January 2011 —with conservatives angling for slower change—is contributing to the increasingly hostile environment. U.S. trade officials, for their part, aren't idling. They are considering whether to join a trans-Pacific trade bloc that could include Vietnam along with Chile, New Zealand, Singapore and Brunei. Negotiators will meet in Melbourne, Australia on March 15. But U.S. human-rights activists will call for progress in Vietnam before Western countries deepen their ties there.
The U.S., however is unlikely to be able to match the EU's bilateral free-trade ambitions. The Obama administration fears a voter backlash amid a souring economy. U.S. trade representative Ron Kirk has said the administration is focused on enforcing existing trade agreements instead of securing new ones.
---