Europe urges Colombia to speed up FTA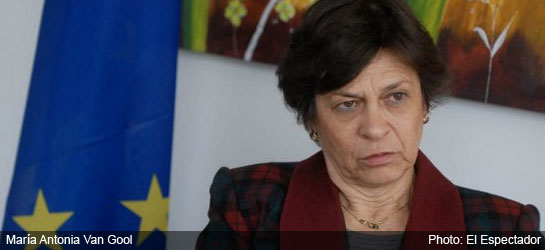 Colombia Reports | Thursday, 13 December 2012
Europe urges Colombia to speed up FTA
Narayan Buckley
The European Union (E.U.) on Wednesday urged Colombia's congress to fast track ratification of a free trade agreement (FTA) signed in June and ratified by the European Parliament earlier this week.
The E.U. ambassador to Colombia, Maria Antonia Van Gool, described congress' slow progress towards ratification as "inconvenient", expressing her hope that the issue would be "resolved by the end of the first quarter of 2013", local media reported.
The FTA has only passed the first of four congressional debates required before the agreement can be reviewed by the Constitutional Court, approved by the president, and finally ratified.
Congress will not continue the FTA debate until March however, further delaying the ratification process.
Van Gool also acknowledged Europe's concerns regarding Colombia's compliance with environmental relations and human and labor rights had contributed to the delay, but that Colombia had been very accommodating in negotiating and addressing these concerns.
Accompanying Van Gool at the press conference were the French, German and Spanish ambassadors to Colombia, who each stressed the importance of the FTA, the French ambassador reassuring Colombia of the strength of the European market despite the current economic crisis.
Colombia's Minister for trade and commerce believes the agreement will double trade over the next eight years and allow Colombia to compete with regional competitors such as Chile and Mexico who have already obtained FTAs with the E.U.
Colombia's Confederation for Workers disagreed with these assessments, claiming the dismal economic situation in Europe does not favor Colombia, while human and labor rights organizations believe Colombia fails to comply with international human and labor rights standards.
Should it be ratified next year the forthcoming FTA will be the second major trade pact in 12 months, just a step behind the US trade agreement that came into effect in May 2012.
---