European action day: citizens in 22 countries demand "Stop TTIP, CETA and TiSA"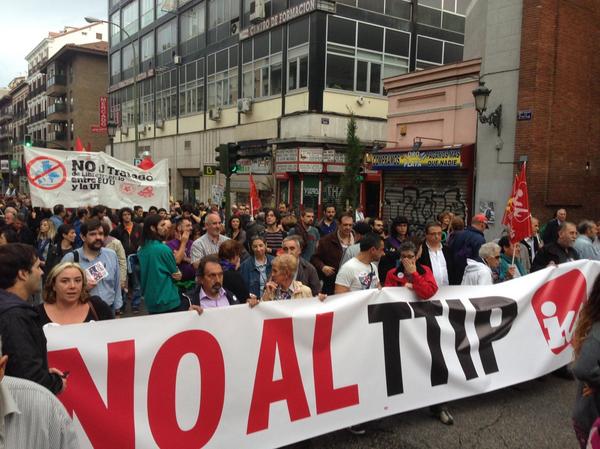 11 October Stop-TTIP-CETA-TiSA Alliance
Press Release
Brussels/Cologne, 11 October 2014
European action day: citizens in 22 countries demand "Stop TTIP, CETA and TiSA"
Warning signal to designated Trade Commissioner Malmström and European Parliament
From Helsinki to Granada, from Brest to Bucharest: On a European day of action against the free trade agreements TTIP (Transatlantic Trade and Investment Partnership), CETA (Comprehensive Economic and Trade Agreement/EU-Canada) and TiSA (Trade in Services Agreement), thousands of citizens took to the streets with more than 1100 public activities in 22 European countries. Citizens and civil society organisations expressed their view that these upcoming trade deals gravely threaten democracy, the environment, health rights, food standards, jobs, wages, public services and digital rights in Europe. The European day of action gave a further push to the self-organised European Citizens' Initiative (ECI) against TTIP and CETA, which had already collected 459,000 signatures since its launch on October 7.
"The numerous and various actions organised on this 11 October show, sadly, the widening gap between European policymakers and citizens concerning the EU free trade agenda", said Michel Cermak from the Belgian development organisation CNDC. "The outgoing European Commission concluded the treaty with Canada by disregarding the results of its own public consultation, and refused the launch of a formal 'stop TTIP' citizens' initiative. The new Commissioner-designate Cecilia Malmström has confirmed that she will stick to this corporate-driven agenda. The good news is that many citizens and organisations are prepared for a long term struggle against TTIP, CETA and TiSA."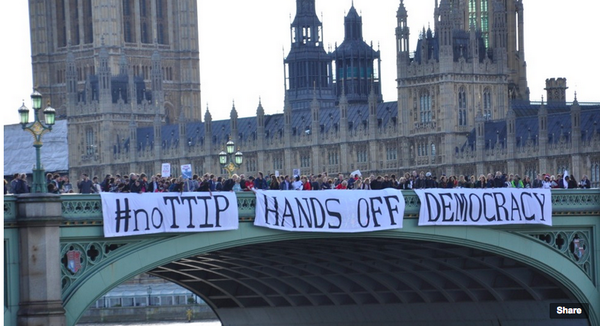 The decentralised European day of action consisted of marches, meetings and public stands to collect signatures for the self-organised European Citizens' Initiative against TTIP and CETA in over 1100 places across Europe. The day of action was organised by an alliance of civil society groups, social movements, trade unions and grassroots' activist groups.
"The great success of this pan-European day of action shows that the level of awareness of the disastrous impacts and the corporate takeover of EU trade and investment policies is rising. People are willing to take action and to promote alternatives that are working for the people and the planet", explained Amelie Canon from the French NGO AITEC - Association Internationale des Techniciens, Experts et Chercheurs. "Over 70 diverse and creative events took place all around France. In Paris, the Transatlantic Shark led the way and the mobilization against TTIP included many anti-fracking groups involved with the Global Frackdown Day today. This is just the beginning of a mobilisation by citizens to stop this privatisation of democracy."
NOTES and CONTACTS:
Actions took place in 22 European countries (20 EU member states):
France (+Réunion), Austria, Germany, Italy, Spain, UK, Ireland, Portugal, Malta, Slovenia, Greece, Bulgaria, Romania, Poland, Luxemburg, Finland, Sweden, The Netherlands, Belgium, Czech Republic, Switzerland and Norway.
Overview of protests across Europe: http://www.stop-ttip-ceta-tisa.eu
Self-organised ECI: http://stop-ttip.org
Global Frackdown Day: http://www.globalfrackdown.org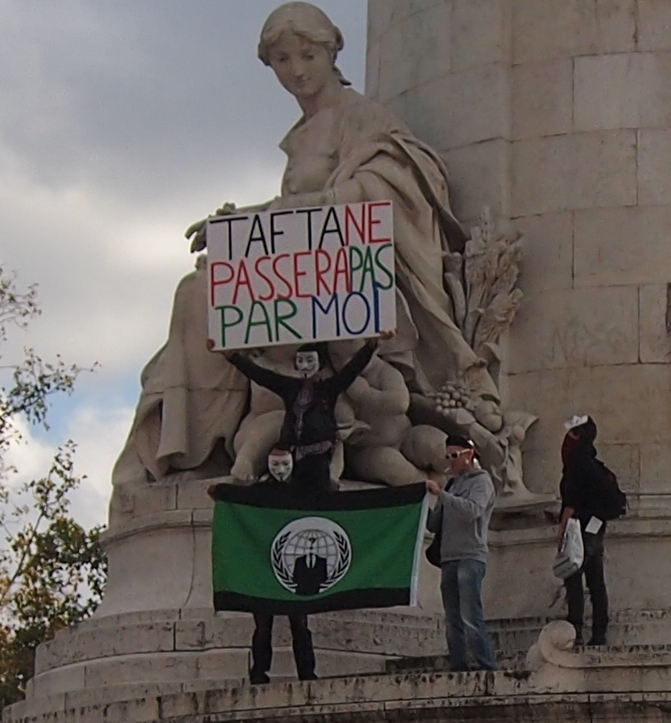 National press contacts:
Austria
Madeleine Drescher (German, English), Attac Austria, Austrian Coalition
"TTIP stoppen", Vienna/Austria, +43 676 520 28 10, madeleine.drescher@attac.at
France
Lucile Falgueyrac (French, English), AITEC, Paris/France, +491796116453, lucile@echanges-partenariats.org
Belgium
Michel Cermak (French, English), CNCD-11.11.11, Brussels/Belgium, +32 472 45 22 73, Michel.Cermak@cncd.be
Italy
Monica DiSisto (Italien, English), FairWatch, Milan/Italy, +393358426752, moni.disisto@iol.it
+ Alberto Zoratti (Italian, English) Fairwatch, +39 349 6766540, azoratti@yahoo.it
Germany
Roland Süss (German), Attac Germany, Heidelberg/Germany: +49 175 2725 893, suess@attac.de
Spain
Tom Kucharz (Spanish, English) Ecologistas en Accion +34 619 94 90 53, agroecologia@ecologistasenaccion.org
+ Alberto Martinez (Spanish, English) Attac Spain, Madrid/Spain, +34 670 719 477, albertomshc@yahoo.es
Greece
Kostas Foteinakis (Greek, English) Naturefriends Greece, Grrek coalition STOP TTIP CETA Greece, +30 6932 638523, xpolis@gmail.com
Sweden
Ellie Cijvat (Swedish, English) Friends of the Earth Sweden, Stockholm/Sweden, +46 73 778 2242, ellie.cijvat@jordensvanner.se
UK
Tim Flitcroft (English) Occupy London, London/UK, +447446826703, timactivist@gmail.com
Slovenia
Andrej Gnezda (Slovenian), Umanoterra, Ljubljana/Slovenia, +386 40 360 890, andrej@umanotera.org
Netherlands
Ante Wessels (Dutch, English) Free Information Infrastructure/Netherlands, Amsterdam/NL, +3161009063
European coordination press contacts:
Lucile Falgueyrac (French, English), AITEC, Paris/France, +491796116453, lucile@echanges-partenariats.org
Alexis Passadakis, (German, English), Seattle to Brussels Network, Cologne/Germany, +491702684445,
Alexis.Passadakis@power-shift.de
More information:
European day of action: www.stop-ttip-ceta-tisa.eu
Seattle to Brussels Network: www.s2bnetwork.org
---